Up Front
FedEx Express professional driver Roland Bolduc, representing Connecticut, outperformed a field of more than 400 fellow drivers.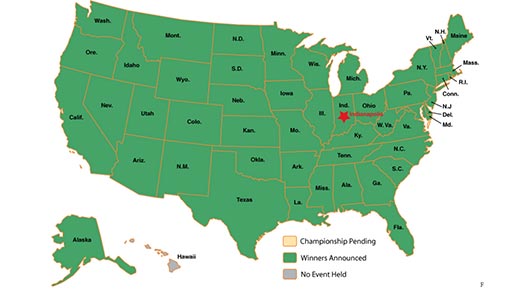 Click on a yellow state to see when its event is scheduled; a green state to see who was named Grand Champion.
Check out images from the 2022 awards presentation — not just the winners, but shots of all 45 finalists as well.
State Champions
| State | Date | Classification | Winner | Company |
| --- | --- | --- | --- | --- |
| Alabama | 5/27/2022 | 3-Axle | Tony Johnson | TForce Freight |
| Alabama | 5/27/2022 | 4-Axle | William Brandon | FedEx Freight |
| Alabama | 5/27/2022 | 5-Axle | Alphonso Lewis | Yellow |
| Alabama | 5/27/2022 | Flatbed | Thomas Garner | FedEx Freight |
| Alabama | 5/27/2022 | Grand Champion | Dan Thompson | FedEx Freight |
| Alabama | 5/27/2022 | Sleeper Berth | Jason Webber | LB3 |
| Alabama | 5/27/2022 | Straight Truck | David Hawk | FedEx Freight |
| Alabama | 5/27/2022 | Tank Truck | John Carter | FedEx Freight |
| Alabama | 5/27/2022 | Twins | Dan Thompson | FedEx Freight |
| Alaska | 6/4/2022 | 3-Axle | Matthew Mongeau | FedEx Express |
| Alaska | 6/4/2022 | 4-Axle | Michael Bradley Hinkes | Carlile |
| Alaska | 6/4/2022 | 5-Axle | Edward Tuia | Alaska West Express |
| Alaska | 6/4/2022 | Flatbed | Tevita Toetu | Lynden |
| Alaska | 6/4/2022 | Grand Champion | Michael Bradley Hinkes | Carlile |
| Alaska | 6/4/2022 | Sleeper Berth | Jeremiah Payne | American Fast Freight |
| Alaska | 6/4/2022 | Step Van | Jerome Dela Cruz | FedEx Express |
| Alaska | 6/4/2022 | Straight Truck | Adam Vargason | Span Alaska |
| Alaska | 6/4/2022 | Tank Truck | William Krenz | Carlile |
| Alaska | 6/4/2022 | Twins | Matthew Carroll | American Fast Freight |
| Arizona | 4/9/2022 | 3-Axle | Chase Peterson | Shamrock Foods Co. |
| Arizona | 4/9/2022 | 4-Axle | Reynaldo Murrieta | FedEx Freight |
| Arizona | 4/9/2022 | 5-Axle | John M. Housley | Freeport Transportation |
| Arizona | 4/9/2022 | Flatbed | Eric Ramsdell | Walmart Supply Chain |
| Arizona | 4/9/2022 | Grand Champion | Mike Alpine | ABF Freight |
| Arizona | 4/9/2022 | Sleeper Berth | Mike Alpine | ABF Freight |
| Arizona | 4/9/2022 | Step Van | Adrian Nune | UPS |
| Arizona | 4/9/2022 | Straight Truck | David Coffel | FedEx Express |
| Arizona | 4/9/2022 | Tank Truck | Ina Daly | XPO Logistics |
| Arizona | 4/9/2022 | Twins | Kelly Brown | FedEx Freight |
| Arkansas | 6/24/2022 | 3-Axle | Chaunce Umfleet | FedEx Express |
| Arkansas | 6/24/2022 | 4-Axle | Rick Dean | Walmart Transportation |
| Arkansas | 6/24/2022 | 5-Axle | Justin France | Maverick Transportation |
| Arkansas | 6/24/2022 | Flatbed | Marcus Rush | Walmart Transportation |
| Arkansas | 6/24/2022 | Grand Champion | Dennis Hall | Tyson Foods |
| Arkansas | 6/24/2022 | Sleeper Berth | Dennis Hall | Tyson Foods |
| Arkansas | 6/24/2022 | Step Van | Chris James | FedEx Ground |
| Arkansas | 6/24/2022 | Straight Truck | Eric Clark | FedEx Freight |
| Arkansas | 6/24/2022 | Tank Truck | Bret McBain | Walmart Transportation |
| Arkansas | 6/24/2022 | Twins | Aaron Frisby | Walmart Transportation |
| California | 5/21/2022 | 3-Axle | Carlos Montoya | Yellow |
| California | 5/21/2022 | 4-Axle | Jose Perez Jr. | FedEx Express |
| California | 5/21/2022 | 5-Axle | Art Trujillo | FedEx Freight |
| California | 5/21/2022 | Flatbed | Steve Hutton | Walmart |
| California | 5/21/2022 | Grand Champion | Art Trujillo | FedEx Freight |
| California | 5/21/2022 | Sleeper Berth | Shane Naisbitt | Walmart |
| California | 5/21/2022 | Step Van | Ocar Enciso | FedEx Ground |
| California | 5/21/2022 | Straight Truck | Victor Solano | FedEx Freight |
| California | 5/21/2022 | Tank Truck | Jose Gastelum | Cox Petroleum Transport |
| California | 5/21/2022 | Twins | Tracy Dewees | Yellow |
| Colorado | 6/4/2022 | 3-Axle | Paul Swan | FedEx Freight |
| Colorado | 6/4/2022 | 4-Axle | Mark Lannerd | XPO Logistics |
| Colorado | 6/4/2022 | 5-Axle | Ron Rice Jr. | Mile Hi Foods |
| Colorado | 6/4/2022 | Flatbed | Rich Merich | FedEx Freight |
| Colorado | 6/4/2022 | Grand Champion | David Mogler | FedEx Freight |
| Colorado | 6/4/2022 | Sleeper Berth | Jesse Gonzalez | Mile Hi Foods |
| Colorado | 6/4/2022 | Straight Truck | Nate McCarty | ABF Freight |
| Colorado | 6/4/2022 | Tank Truck | Todd Flippin | FedEx Freight |
| Colorado | 6/4/2022 | Twins | David Mogler | FedEx Freight |
| Connecticut | 6/11/2022 | 3-Axle | James Dixon | A. Duie Pyle |
| Connecticut | 6/11/2022 | 4-Axle | Dave Buonocore | Bozzuto's |
| Connecticut | 6/11/2022 | 5-Axle | John Lanty | Martin Brower |
| Connecticut | 6/11/2022 | Flatbed | John Brown | Scott's Miracle Gro |
| Connecticut | 6/11/2022 | Grand Champion | Roland Bolduc | FedEx Express |
| Connecticut | 6/11/2022 | Sleeper Berth | Roland Bolduc | FedEx Express |
| Connecticut | 6/11/2022 | Step Van | John Sanchez | FedEx Express |
| Connecticut | 6/11/2022 | Straight Truck | Karen Roderick | FedEx Ground |
| Connecticut | 6/11/2022 | Tank Truck | Tony Spero | ABF Freight |
| Connecticut | 6/11/2022 | Twins | Ernie Budlowski | XPO Logistics |
| Delaware | 5/14/2022 | 4-Axle | Phyllip Brunhammer | Walmart Transportation |
| Delaware | 5/14/2022 | 5-Axle | Robert Benton | Walmart Transportation |
| Delaware | 5/14/2022 | Flatbed | Robert Davis | Walmart Transportation |
| Delaware | 5/14/2022 | Grand Champion | Phyllip Brunhammer | Walmart Transportation |
| Delaware | 5/14/2022 | Sleeper Berth | Paul Marks | Walmart Transportation |
| Delaware | 5/14/2022 | Step Van | Thomas Gill | FedEx Ground |
| Delaware | 5/14/2022 | Straight Truck | Edward Hill | FedEx Freight |
| Delaware | 5/14/2022 | Twins | George Sweeney | Walmart Transportation |
| Florida | 6/9/2022 | 3-Axle | Miguel Sanchez | UPS |
| Florida | 6/9/2022 | 4-Axle | Jorge Alfonso | FedEx Freight |
| Florida | 6/9/2022 | 5-Axle | David Guinn | Publix Super Markets |
| Florida | 6/9/2022 | Flatbed | Glenn Hosegood | FedEx Freight |
| Florida | 6/9/2022 | Grand Champion | David Guinn | Publix Super Markets |
| Florida | 6/9/2022 | Sleeper Berth | Anthony Tirone | Walmart |
| Florida | 6/9/2022 | Step Van | Michelle Poirier | FedEx Express |
| Florida | 6/9/2022 | Straight Truck | Becky Nelson | FedEx Express |
| Florida | 6/9/2022 | Tank Truck | Sheldon Brown | FedEx Freight |
| Florida | 6/9/2022 | Twins | Leslie Smyth | FedEx Freight |
| Georgia | 5/5/2022 | 3-Axle | Brent Darnell | Southeastern Freight Lines |
| Georgia | 5/5/2022 | 4-Axle | Tim McElwaney | ABF Freight |
| Georgia | 5/5/2022 | 5-Axle | Ray Shepherd | Southeastern Freight Lines |
| Georgia | 5/5/2022 | Flatbed | Joey Martel | ABF Freight |
| Georgia | 5/5/2022 | Grand Champion | Herschel Evans | Yellow |
| Georgia | 5/5/2022 | Sleeper Berth | Luke Yoakum | Southeastern Freight Lines |
| Georgia | 5/5/2022 | Straight Truck | Ronnie Merritt | FedEx Freight |
| Georgia | 5/5/2022 | Tank Truck | Glenn Morris | FedEx Freight |
| Georgia | 5/5/2022 | Twins | Herschel Evans | Yellow |
| Hawaii | 6/11/2022 | | No state event held | |
| Idaho | 5/6/2022 | 3-Axle | Matthew Housely | FedEx Freight |
| Idaho | 5/6/2022 | 4-Axle | Jeff Halford | XPO Logistics |
| Idaho | 5/6/2022 | 5-Axle | Tony Rhoades | Old Dominion Freight Line |
| Idaho | 5/6/2022 | Flatbed | Cory Weber | Old Dominion Freight Line |
| Idaho | 5/6/2022 | Grand Champion | Paul Callahan | Yellow |
| Idaho | 5/6/2022 | Sleeper Berth | Kolton Schultz | XPO Logistics |
| Idaho | 5/6/2022 | Step Van | Luciano Amorim | FedEx Ground |
| Idaho | 5/6/2022 | Straight Truck | Bill Nolan | Old Dominion Freight Line |
| Idaho | 5/6/2022 | Tank Truck | Paul Callahan | Yellow |
| Idaho | 5/6/2022 | Twins | Mark VanBlaricom | Old Dominion Freight Line |
| Illinois | 6/3/2022 | 3-Axle | Aaron Mendoza | FedEx Freight |
| Illinois | 6/3/2022 | 4-Axle | Miguel Corral Jr. | UPS |
| Illinois | 6/3/2022 | 5-Axle | Tim Banasiak | UPS |
| Illinois | 6/3/2022 | Flatbed | Bill O'Connor | UPS |
| Illinois | 6/3/2022 | Grand Champion | Ceth Christensen | UPS |
| Illinois | 6/3/2022 | Sleeper Berth | Peter Palczynski | Walmart |
| Illinois | 6/3/2022 | Step Van | Ceth Christensen | UPS |
| Illinois | 6/3/2022 | Straight Truck | Tom LeCour | UPS |
| Illinois | 6/3/2022 | Tank Truck | Dave Miller | UPS |
| Illinois | 6/3/2022 | Twins | Douglas Hurley | FedEx Freight |
| Indiana | 6/10/2022 | 3-Axle | Michael Rummel | Old Dominion Freight Line |
| Indiana | 6/10/2022 | 4-Axle | Tom Riggins | FedEx Ground |
| Indiana | 6/10/2022 | 5-Axle | Dawn Cochran | Old Dominion Freight Line |
| Indiana | 6/10/2022 | Flatbed | Glen Kirk | Old Dominion Freight Line |
| Indiana | 6/10/2022 | Grand Champion | Mike White | Walmart |
| Indiana | 6/10/2022 | Sleeper Berth | Mike White | Walmart |
| Indiana | 6/10/2022 | Step Van | C.T. Bachman | UPS |
| Indiana | 6/10/2022 | Straight Truck | Tony Wideman | FedEx Freight |
| Indiana | 6/10/2022 | Tank Truck | Dennis Shirar | Walmart |
| Indiana | 6/10/2022 | Twins | Shannon Lynch | UPS |
| Iowa | 6/9/2022 | 3-Axle | Jimmy Lair | FedEx Freight |
| Iowa | 6/9/2022 | 4-Axle | Allen Sohn | FedEx Freight |
| Iowa | 6/9/2022 | 5-Axle | Dean Filmer | Decker Truck Line |
| Iowa | 6/9/2022 | Flatbed | Toby Royster | FedEx Freight |
| Iowa | 6/9/2022 | Grand Champion | Allen Sohn | FedEx Freight |
| Iowa | 6/9/2022 | Sleeper Berth | Tex Halligan | Ruan Transportation |
| Iowa | 6/9/2022 | Straight Truck | Richard Barre | XPO Logistics |
| Iowa | 6/9/2022 | Tank Truck | Warren Ratliff | Questliner |
| Iowa | 6/9/2022 | Twins | Steven Iburg | XPO Logistics |
| Kansas | 6/17/2022 | 3-Axle | Ernie Arnote | XPO Logistics |
| Kansas | 6/17/2022 | 4-Axle | Robert Erwin | ABF Freight |
| Kansas | 6/17/2022 | 5-Axle | Jason Damron | Convoy Systems |
| Kansas | 6/17/2022 | Flatbed | Terry Covey | FedEx Freight |
| Kansas | 6/17/2022 | Grand Champion | Terry Covey | FedEx Freight |
| Kansas | 6/17/2022 | Sleeper Berth | Steve Dixon | Walmart Transportation |
| Kansas | 6/17/2022 | Straight Truck | Dean Harris | FedEx Freight |
| Kansas | 6/17/2022 | Tank Truck | Ken Saur | XPO Logistics |
| Kansas | 6/17/2022 | Twins | Bryce Dock | XPO Logistics |
| Kentucky | 5/20/2022 | 3-Axle | Danta Barbour | UPS |
| Kentucky | 5/20/2022 | 4-Axle | Mark Brooks | UPS |
| Kentucky | 5/20/2022 | 5-Axle | John Higgs | FedEx Freight |
| Kentucky | 5/20/2022 | Flatbed | Dale Brenaman | UPS |
| Kentucky | 5/20/2022 | Grand Champion | Dante Barbour | UPS |
| Kentucky | 5/20/2022 | Sleeper Berth | Christopher Turner | Walmart Transportation |
| Kentucky | 5/20/2022 | Step Van | Peter Dreisbach Jr | UPS |
| Kentucky | 5/20/2022 | Straight Truck | Jesse Benkert | FedEx Ground |
| Kentucky | 5/20/2022 | Tank Truck | Jerry Wrinkle | Walmart Transportation |
| Kentucky | 5/20/2022 | Twins | Derek Schweinhart | FedEx Freight |
| Louisiana | 3/4/2022 | 3-Axle | James Maxwell | FedEx Freight |
| Louisiana | 3/4/2022 | 4-Axle | Jerry Farmer | XPO Logistics |
| Louisiana | 3/4/2022 | 5-Axle | Glen Winston | C&S Wholesale Services |
| Louisiana | 3/4/2022 | Flatbed | Larry Smith | XPO Logistics |
| Louisiana | 3/4/2022 | Grand Champion | Eric Courville | FedEx Freight |
| Louisiana | 3/4/2022 | Sleeper Berth | Eric Courville | FedEx Freight |
| Louisiana | 3/4/2022 | Step Van | Donald Williams | FedEx Ground |
| Louisiana | 3/4/2022 | Straight Truck | Corey Mitchell | FedEx Freight |
| Louisiana | 3/4/2022 | Tank Truck | Johnnie Long | Walmart Transportation |
| Louisiana | 3/4/2022 | Twins | Damien Hebert | XPO Logistics |
| Maine | 5/21/2022 | 3-Axle | Alan Paradis | A & A Trucking |
| Maine | 5/21/2022 | 4-Axle | Robert Fernald | Walmart Transportation |
| Maine | 5/21/2022 | 5-Axle | Kenneth Duncan | Walmart Transportation |
| Maine | 5/21/2022 | Flatbed | Jonathan Sawyer | Walmart Transportation |
| Maine | 5/21/2022 | Grand Champion | Alan Paradis | A & A Trucking |
| Maine | 5/21/2022 | Sleeper Berth | Wayne Martin | Hartt Transportation |
| Maine | 5/21/2022 | Step Van | Robert Cochran | FedEx Express |
| Maine | 5/21/2022 | Straight Truck | Jeff Granholm | Pottle's Transportation |
| Maine | 5/21/2022 | Tank Truck | Haleigh Fickett | R.H. Foster |
| Maine | 5/21/2022 | Twins | Matthew Richardson | Performance Food Group |
| Maryland | 6/4/2022 | 3-Axle | Lou Petrovia | XPO Logistics |
| Maryland | 6/4/2022 | 4-Axle | Cole Miltenberger | Pitt Ohio Express |
| Maryland | 6/4/2022 | 5-Axle | Brandon Hose | Pitt Ohio Express |
| Maryland | 6/4/2022 | Flatbed | Jerome Spencer | Giant of Maryland |
| Maryland | 6/4/2022 | Grand Champion | Joyce Bain | FedEx Ground |
| Maryland | 6/4/2022 | Sleeper Berth | Joyce Bain | FedEx Ground |
| Maryland | 6/4/2022 | Step Van | Greg Long | FedEx Express |
| Maryland | 6/4/2022 | Straight Truck | Daniel Seekford | Pitt Ohio Express |
| Maryland | 6/4/2022 | Tank Truck | James Brooks | UPS Inc. |
| Maryland | 6/4/2022 | Twins | Gregory Hess | FedEx Freight |
| Massachussetts | 6/5/2022 | 3-Axle | Karen Tierney | FedEx Express |
| Massachussetts | 6/5/2022 | 4-Axle | Christopher Buswell | FedEx Freight |
| Massachussetts | 6/5/2022 | Flatbed | Richard Sweeney | XPO Logistics |
| Massachussetts | 6/5/2022 | Grand Champion | Karen Tierney | FedEx Express |
| Massachussetts | 6/5/2022 | Straight Truck | William Colantuone | FedEx Express |
| Massachussetts | 6/5/2022 | Twins | Richard Gray | FedEx Freight |
| Michigan | 6/10/2022 | Step Van | Phillip Lawrence | FedEx Ground |
| Michigan | 6/10/2022 | 3-Axle | Steven Rose | Yellow |
| Michigan | 6/10/2022 | 4-Axle | Clent Simmons | FedEx Freight |
| Michigan | 6/10/2022 | 5-Axle | Steven Tobolic | Yellow |
| Michigan | 6/10/2022 | Flatbed | Mark Behr | ABF Freight |
| Michigan | 6/10/2022 | Grand Champion | Chad Williams | Old Dominion Freight Line |
| Michigan | 6/10/2022 | Sleeper Berth | Michael Wolf | FedEx Freight |
| Michigan | 6/10/2022 | Straight Truck | Ty Possehn | FedEx Freight |
| Michigan | 6/10/2022 | Tank Truck | Steven Elliston | Walmart Transportation |
| Michigan | 6/10/2022 | Twins | Chad Williams | Old Dominion Freight Line |
| Minnesota | 6/25/2022 | 3-Axle | Larry Steffensen | FedEx Freight |
| Minnesota | 6/25/2022 | 4-Axle | Bruce Quaal | ABF Freight |
| Minnesota | 6/25/2022 | 5-Axle | Scott Oehrlein | Corborn's Inc. |
| Minnesota | 6/25/2022 | Flatbed | Chad Abts | Stan Koch & Son's Trucking |
| Minnesota | 6/25/2022 | Grand Champion | Reggie Copeland | FedEx Freight |
| Minnesota | 6/25/2022 | Sleeper Berth | Jordan Smith | Walmart Transportation |
| Minnesota | 6/25/2022 | Step Van | Alex Lofgren | FedEx Express |
| Minnesota | 6/25/2022 | Straight Truck | Reggie Copeland | FedEx Freight |
| Minnesota | 6/25/2022 | Tank Truck | Jesse Harren | Yellow |
| Minnesota | 6/25/2022 | Twins | Ben Kurzhal | Old Dominion Freight Line |
| Mississippi | 4/29/2022 | 3-Axle | Jackie Reed | FedEx Freight |
| Mississippi | 4/29/2022 | 4-Axle | Lonnie Walker | ABF Freight |
| Mississippi | 4/29/2022 | 5-Axle | Archie Burras | Total Transportation of Mississippi |
| Mississippi | 4/29/2022 | Flatbed | John Smith Jr. | FedEx Ground |
| Mississippi | 4/29/2022 | Grand Champion | Jackie Reed | FedEx Freight |
| Mississippi | 4/29/2022 | Sleeper Berth | Phil Harrison | Gulf Relay |
| Mississippi | 4/29/2022 | Step Van | Antonio Tompkins | FedEx Ground |
| Mississippi | 4/29/2022 | Straight Truck | Keith Reynaud | Walmart |
| Mississippi | 4/29/2022 | Tank Truck | Rickey Oliver | Walmart |
| Mississippi | 4/29/2022 | Twins | Randy Byrd | FedEx Freight |
| Missouri | 6/3/2022 | 3-Axle | Michael Chatterton | FedEx Freight |
| Missouri | 6/3/2022 | 4-Axle | Brent Sims | FedEx Freight |
| Missouri | 6/3/2022 | 5-Axle | Joseph Hartsell | TForce Freight |
| Missouri | 6/3/2022 | Flatbed | Scott Fischer | Prime |
| Missouri | 6/3/2022 | Grand Champion | Michael Chatterton | FedEx Freight |
| Missouri | 6/3/2022 | Sleeper Berth | Bobby Chilcoat | CFI |
| Missouri | 6/3/2022 | Straight Truck | Joshua Hogue | Hogan Transports |
| Missouri | 6/3/2022 | Tank Truck | Duane Grimme | Prime |
| Missouri | 6/3/2022 | Twins | Steve Fields | Yellow |
| Montana | 6/9/2022 | 3-Axle | Tom Miller | FedEx Freight |
| Montana | 6/9/2022 | 4-Axle | Mitch Wright | FedEx Freight |
| Montana | 6/9/2022 | 5-Axle | Barrett Browning | FedEx Freight |
| Montana | 6/9/2022 | Flatbed | Donald Jones | FedEx Freight |
| Montana | 6/9/2022 | Grand Champion | Scott Lorio | FedEx Freight |
| Montana | 6/9/2022 | Sleeper Berth | Lyle Turville | Decker Truck Line |
| Montana | 6/9/2022 | Step Van | Michael Cox | FedEx Freight |
| Montana | 6/9/2022 | Straight Truck | Richard Grayson | FedEx Freight |
| Montana | 6/9/2022 | Tank Truck | Keith Linn | FedEx Freight |
| Montana | 6/9/2022 | Twins | Scott Lorio | FedEx Freight |
| Nebraska | 6/3/2022 | 3-Axle | Joe Busch | ABF Freight System |
| Nebraska | 6/3/2022 | 4-Axle | Phil Delauder | Werner Enterprises |
| Nebraska | 6/3/2022 | 5-Axle | James Moeller | YRC Freight |
| Nebraska | 6/3/2022 | Flatbed | Robie Jensen | Fremont Contract Carriers |
| Nebraska | 6/3/2022 | Grand Champion | Eric Stein | Werner Enterprises |
| Nebraska | 6/3/2022 | Sleeper Berth | John Putney | Greater Omaha Express |
| Nebraska | 6/3/2022 | Step Van | Jenni VonBonn | FedEx Express |
| Nebraska | 6/3/2022 | Straight Truck | Clint Rast | ABF Freight System |
| Nebraska | 6/3/2022 | Tank Truck | Larry Derr | Werner Enterprises |
| Nebraska | 6/3/2022 | Twins | Eric Stein | Werner Enterprises |
| Nevada | 4/23/2022 | 3-Axle | Jose Vizcarrondo | Yellow |
| Nevada | 4/23/2022 | 4-Axle | Brandon Hardy | XPO Logistics |
| Nevada | 4/23/2022 | 5-Axle | Patrick Nerger | FedEx Ground |
| Nevada | 4/23/2022 | Flatbed | Eric Flick | UPS |
| Nevada | 4/23/2022 | Grand Champion | Aaron Sharp | UPS |
| Nevada | 4/23/2022 | Sleeper Berth | David Sharp | UPS |
| Nevada | 4/23/2022 | Step Van | Jason Sarmiento | UPS |
| Nevada | 4/23/2022 | Straight Truck | Aaron Sharp | UPS |
| Nevada | 4/23/2022 | Tank Truck | Randy Stromlund | UPS |
| Nevada | 4/23/2022 | Twins | Matt Hart | FedEx Freight |
| New Hampshire | 6/4/2022 | 3-Axle | Peter Borges | FedEx Express |
| New Hampshire | 6/4/2022 | 4-Axle | William Cook | Yellow Freight |
| New Hampshire | 6/4/2022 | 5-Axle | Kerry Jenkins | Walmart |
| New Hampshire | 6/4/2022 | Flatbed | Richard Hill | Walmart |
| New Hampshire | 6/4/2022 | Grand Champion | Peter Borges | FedEx Freight |
| New Hampshire | 6/4/2022 | Sleeper Berth | Christopher Stockton | Walmart |
| New Hampshire | 6/4/2022 | Step Van | Charles Putnam | FedEx Freight |
| New Hampshire | 6/4/2022 | Twins | Robert Fair | FedEx Freight |
| New Jersey | 6/4/2022 | 3-Axle | Wilbert Vano | XPO Logistics |
| New Jersey | 6/4/2022 | 4-Axle | Doug Simonelli | A. Duie Pyle |
| New Jersey | 6/4/2022 | 5-Axle | Carlos Chavarriaga | UPS Inc. |
| New Jersey | 6/4/2022 | Flatbed | Dominick Vanacore | UPS Inc. |
| New Jersey | 6/4/2022 | Grand Champion | Wilbert Vano | XPO Logistics |
| New Jersey | 6/4/2022 | Sleeper Berth | Leszek Beben | FedEx Freight |
| New Jersey | 6/4/2022 | Step Van | John Ogundele | UPS Inc. |
| New Jersey | 6/4/2022 | Straight Truck | Ed Conrad | FedEx Express |
| New Jersey | 6/4/2022 | Tank Truck | Luis Agudelo | FedEx Freight |
| New Jersey | 6/4/2022 | Twins | Remedios Camacho | FedEx Freight |
| New Mexico | 5/19/2022 | 3-Axle | Mike Johnson | Yellow |
| New Mexico | 5/19/2022 | 4-Axle | Justin Gallant | ABF Freight |
| New Mexico | 5/19/2022 | 5-Axle | Daniel Bruch | FedEx Freight |
| New Mexico | 5/19/2022 | Flatbed | Carlos Sandoval | XPO Logistics |
| New Mexico | 5/19/2022 | Grand Champion | Chris Shaw | FedEx Express |
| New Mexico | 5/19/2022 | Sleeper Berth | Ralph Garcia | ABF Freight |
| New Mexico | 5/19/2022 | Step Van | Daniel Sloey | FedEx Ground |
| New Mexico | 5/19/2022 | Straight Truck | Chris Shaw | FedEx Express |
| New Mexico | 5/19/2022 | Tank Truck | Shawn Hale | ABF Freight |
| New Mexico | 5/19/2022 | Twins | Antonio Vigil | XPO Logistics |
| New York | 6/10/2022 | 3-Axle | John Jadrossich | FedEx Freight |
| New York | 6/10/2022 | 4-Axle | Marty McMahon | RIST Transport |
| New York | 6/10/2022 | 5-Axle | Estevez Oliver | Martin Brower Co. |
| New York | 6/10/2022 | Flatbed | Ray Waage | FedEx Freight |
| New York | 6/10/2022 | Grand Champion | John Jadrossich | FedEx Freight |
| New York | 6/10/2022 | Sleeper Berth | David Cady | Walmart Supply Chain |
| New York | 6/10/2022 | Step Van | Patrick Collins | FedEx Express |
| New York | 6/10/2022 | Tank Truck | Zachary Bourque | HazMat Environmental Group |
| New York | 6/10/2022 | Twins | Mark McLean | FedEx Freight |
| North Carolina | 6/10/2022 | 3-Axle | Brian Walker | TForce Freight |
| North Carolina | 6/10/2022 | 4-Axle | David Rohman | FedEx |
| North Carolina | 6/10/2022 | 5-Axle | Basher Pierce III | FedEx |
| North Carolina | 6/10/2022 | Flatbed | Daniel Harp | Walmart Transportation |
| North Carolina | 6/10/2022 | Grand Champion | Brian Walker | TForce Freight |
| North Carolina | 6/10/2022 | Sleeper Berth | Antoine Sadler | Walmart Transportation |
| North Carolina | 6/10/2022 | Step Van | Augustus Kern | FedEx |
| North Carolina | 6/10/2022 | Straight Truck | Michael Bills | FedEx |
| North Carolina | 6/10/2022 | Tank Truck | Allen McNeely | ABF Freight |
| North Carolina | 6/10/2022 | Twins | James Luckadoo | TForce Freight |
| North Dakota | 6/4/2022 | 3-Axle | Tom Tweeten | ABF Freight |
| North Dakota | 6/4/2022 | 4-Axle | David Comings | FedEx Freight |
| North Dakota | 6/4/2022 | 5-Axle | Adam Krenzel | Magnum |
| North Dakota | 6/4/2022 | Flatbed | Donald Edman | EW Wylie |
| North Dakota | 6/4/2022 | Grand Champion | Tyler Tollefson | FedEx Freight |
| North Dakota | 6/4/2022 | Sleeper Berth | Brian Evenson | Marvin Logistics |
| North Dakota | 6/4/2022 | Straight Truck | Tyler Tollefson | FedEx Freight |
| North Dakota | 6/4/2022 | Tank Truck | John Janousek | FedEx Freight |
| North Dakota | 6/4/2022 | Twins | Drew Bartelson | Old Dominion Freight Line |
| Ohio | 5/20/2022 | 3-Axle | James Emerine | FedEx Freight |
| Ohio | 5/20/2022 | 4-Axle | Chip Bechtel | Yellow |
| Ohio | 5/20/2022 | 5-Axle | JR Allen | Martin Brower |
| Ohio | 5/20/2022 | Flatbed | Jeff Rose | Yellow |
| Ohio | 5/20/2022 | Grand Champion | Scott Woodrome | FedEx Freight |
| Ohio | 5/20/2022 | Sleeper Berth | Scott Woodrome | FedEx Freight |
| Ohio | 5/20/2022 | Step Van | Aaron Snyder | FedEx Ground |
| Ohio | 5/20/2022 | Straight Truck | Jason Imhoff | Walmart Transportation |
| Ohio | 5/20/2022 | Tank Truck | David Peters | Martin Brower |
| Ohio | 5/20/2022 | Twins | David Schroeder | FedEx Freight |
| Oklahoma | 6/10/2022 | 3-Axle | Nicholas "Nick" Arnold | FedEx Freight |
| Oklahoma | 6/10/2022 | 4-Axle | Larry Kendall | FedEx Freight |
| Oklahoma | 6/10/2022 | 5-Axle | Ted Hunter | YRC Freight |
| Oklahoma | 6/10/2022 | Flatbed | Jason Corino | Melton Truck Lines |
| Oklahoma | 6/10/2022 | Grand Champion | Larry Kendall | FedEx Freight |
| Oklahoma | 6/10/2022 | Sleeper Berth | Sonny Warren | Walmart Transportation |
| Oklahoma | 6/10/2022 | Step Van | Orlando Williams Jr. | FedEx Express |
| Oklahoma | 6/10/2022 | Straight Truck | James Fabian | ABF Freight |
| Oklahoma | 6/10/2022 | Tank Truck | Robin Frey | FedEx Express |
| Oklahoma | 6/10/2022 | Twins | David Jones | ABF Freight |
| Oregon | 6/11/2022 | 3-Axle | Tim Melody | ABF Freight |
| Oregon | 6/11/2022 | 4-Axle | Daniel Shamrell | FedEx Freight |
| Oregon | 6/11/2022 | 5-Axle | Juan Covarrubias | Tradewinds |
| Oregon | 6/11/2022 | Flatbed | Chris Outen | FedEx Freight |
| Oregon | 6/11/2022 | Grand Champion | Tim Melody | ABF Freight |
| Oregon | 6/11/2022 | Sleeper Berth | Kirby Ferber | FedEx Freight |
| Oregon | 6/11/2022 | Step Van | Adam Elliott | FedEx Freight |
| Oregon | 6/11/2022 | Straight Truck | Gurinder Dhaliwal | FedEx Freight |
| Oregon | 6/11/2022 | Tank Truck | Heladio Fernandez | FedEx Freight |
| Oregon | 6/11/2022 | Twins | Ronald Zieser | FedEx Freight |
| Pennsylvania | 6/24/2022 | 3-Axle | Scott Mullen | XPO Logistics |
| Pennsylvania | 6/24/2022 | 4-Axle | Bartholomew Masciulli | FedEx Express |
| Pennsylvania | 6/24/2022 | 5-Axle | Tom Bewley | A. Duie Pyle |
| Pennsylvania | 6/24/2022 | Flatbed | Troy Wolf | Day & Ross |
| Pennsylvania | 6/24/2022 | Grand Champion | Troy Wolf | Day & Ross |
| Pennsylvania | 6/24/2022 | Sleeper Berth | James Campbell | T Force Freight |
| Pennsylvania | 6/24/2022 | Step Van | T.J. Altland | UPS |
| Pennsylvania | 6/24/2022 | Straight Truck | Leonard Monette | UPS |
| Pennsylvania | 6/24/2022 | Tank Truck | Joe Allen Boyd | Walmart Transportation |
| Pennsylvania | 6/24/2022 | Twins | John Brownawell | Yellow Freight Systems |
| Rhode Island | 6/11/2022 | 3-Axle | Joe Hicks | XPO Logistics |
| Rhode Island | 6/11/2022 | 4-Axle | Mynor Guevara | XPO Logistics |
| Rhode Island | 6/11/2022 | Grand Champion | Joe Hicks | XPO Logistics |
| Rhode Island | 6/11/2022 | Straight Truck | David Lumpkin | FedEx Express |
| Rhode Island | 6/11/2022 | Twins | William Burns | A. Duie Pyle |
| South Carolina | 4/29/2022 | 3-Axle | J.B. Quarles | Wal-Mart Stores |
| South Carolina | 4/29/2022 | 4-Axle | Kenneth Smith | Old Dominion Freight Line |
| South Carolina | 4/29/2022 | 5-Axle | Brandon Worthy | Southeastern Freight Lines |
| South Carolina | 4/29/2022 | Flatbed | Kevin Doll | FedEx Freight |
| South Carolina | 4/29/2022 | Grand Champion | J.B. Quarles | Wal-Mart Stores |
| South Carolina | 4/29/2022 | Sleeper Berth | John Hummel | TForce Freight |
| South Carolina | 4/29/2022 | Step Van | Jason Sturkie | FedEx Ground |
| South Carolina | 4/29/2022 | Straight Truck | Walter Freeman | FedEx Ground |
| South Carolina | 4/29/2022 | Tank Truck | Bill Driskell | Heniff Transportation |
| South Carolina | 4/29/2022 | Twins | Jeff Wade | Southeastern Freight Lines |
| South Dakota | 5/14/2022 | 3-Axle | Jason Skotvold | FedEx Freight |
| South Dakota | 5/14/2022 | 4-Axle | Dean Bowar | FedEx Freight |
| South Dakota | 5/14/2022 | 5-Axle | Jeremy Senger | FedEx Freight |
| South Dakota | 5/14/2022 | Flatbed | Kevin Woods | Johnson Feed |
| South Dakota | 5/14/2022 | Grand Champion | Gary Schmidt | Cliff Viessman Inc. |
| South Dakota | 5/14/2022 | Sleeper Berth | Craig Ellingson | K&J Trucking |
| South Dakota | 5/14/2022 | Straight Truck | Teri Spencer | A&A Express |
| South Dakota | 5/14/2022 | Tank Truck | Gary Schmidt | Cliff Viessman Inc. |
| South Dakota | 5/14/2022 | Twins | Mike Whitehead | FedEx Freight |
| Tennessee | 4/29/2022 | 3-Axle | Brian Turner | Old Dominion Freight Line |
| Tennessee | 4/29/2022 | 4-Axle | Thomas Vandivort | Martin Brower |
| Tennessee | 4/29/2022 | 5-Axle | Thomas Seeley | Martin Brower |
| Tennessee | 4/29/2022 | Flatbed | Phil Shelton | Walmart Transportation |
| Tennessee | 4/29/2022 | Grand Champion | Darrell Gribble | Old Dominion Freight Line |
| Tennessee | 4/29/2022 | Sleeper Berth | Stephen McCoy | Martin Brower |
| Tennessee | 4/29/2022 | Step Van | Glenn Campbell | FedEx Ground |
| Tennessee | 4/29/2022 | Straight Truck | Darrell Gribble | Old Dominion Freight Line |
| Tennessee | 4/29/2022 | Tank Truck | Ray Shelton | FedEx Freight |
| Tennessee | 4/29/2022 | Twins | Mick Gailbraith | XPO Logistics |
| Texas | 6/3/2022 | 3-Axle | David Urrea IV | H-E-B |
| Texas | 6/3/2022 | 4-Axle | Eduardo Camacho | H-E-B |
| Texas | 6/3/2022 | 5-Axle | Mario Gonzalez Jr. | H-E-B |
| Texas | 6/3/2022 | Flatbed | Noe Gomez | H-E-B |
| Texas | 6/3/2022 | Grand Champion | Dennis Mace | FedEx Freight |
| Texas | 6/3/2022 | Sleeper Berth | Robert Gonzalez | FedEx Freight |
| Texas | 6/3/2022 | Step Van | Luis Tarin | FedEx Ground |
| Texas | 6/3/2022 | Straight Truck | Dennis Mace | FedEx Freight |
| Texas | 6/3/2022 | Tank Truck | Randy Gamez Jr. | H-E-B |
| Texas | 6/3/2022 | Twins | Ronald Ramon | H-E-B |
| Utah | 6/2/2022 | 3-Axle | Robert Bjelland | Walmart Transportation |
| Utah | 6/2/2022 | 4-Axle | John Redd | FedEx Ground |
| Utah | 6/2/2022 | 5-Axle | Brandon Crossgrove | Walmart Transportation |
| Utah | 6/2/2022 | Flatbed | Scott Johnson | Old Dominion Freight Line |
| Utah | 6/2/2022 | Grand Champion | Sean McClure | Old Dominion Freight Line |
| Utah | 6/2/2022 | Sleeper Berth | Barry Geck | Walmart Transportation |
| Utah | 6/2/2022 | Step Van | Morgan Hallows | FedEx Ground |
| Utah | 6/2/2022 | Straight Truck | Judd Adams | XPO Logistics |
| Utah | 6/2/2022 | Tank Truck | Sean McClure | Old Dominion Freight Line |
| Utah | 6/2/2022 | Twins | Jeffrey Payne | Yellow Freight |
| Vermont | 6/4/2022 | 3-Axle | Robert Weller | FedEx Freight |
| Vermont | 6/4/2022 | 4-Axle | Ernest Wood | ABF Freight |
| Vermont | 6/4/2022 | Flatbed | Jeremiah Jarvis | FedEx Freight |
| Vermont | 6/4/2022 | Grand Champion | Robert Weller | FedEx Freight |
| Vermont | 6/4/2022 | Step Van | Jacob Holland | FedEx Express |
| Virginia | 5/20/2022 | 3-Axle | Mark Brundage | FedEx Express |
| Virginia | 5/20/2022 | 4-Axle | Clifford Jewell | FedEx Freight |
| Virginia | 5/20/2022 | 5-Axle | Jeffrey Rogers | FedEx Freight |
| Virginia | 5/20/2022 | Flatbed | Robert Lilly Sr. | FedEx Freight |
| Virginia | 5/20/2022 | Grand Champion | Mark Brundage | FedEx Express |
| Virginia | 5/20/2022 | Sleeper Berth | Kenny Sage | Frito-Lay |
| Virginia | 5/20/2022 | Step Van | Julie Williams | FedEx Ground |
| Virginia | 5/20/2022 | Straight Truck | David Price | FedEx Freight |
| Virginia | 5/20/2022 | Tank Truck | Christopher Walker | Walmart Transportation |
| Virginia | 5/20/2022 | Twins | Charles Bird | FedEx Freight |
| Washington | 7/9/2022 | 3-Axle | Chris Poynor | XPO Logistics |
| Washington | 7/9/2022 | 4-Axle | Timothy Davis | Peninsula Truck Lines |
| Washington | 7/9/2022 | 5-Axle | Fabien Boucher | The Boeing Company |
| Washington | 7/9/2022 | Flatbed | Rob Dean | XPO Logistics |
| Washington | 7/9/2022 | Grand Champion | Chris Poynor | XPO Logistics |
| Washington | 7/9/2022 | Sleeper Berth | Chuck Snowdon | The Boeing Company |
| Washington | 7/9/2022 | Step Van | Jaime Bautista | FedEx Express |
| Washington | 7/9/2022 | Straight Truck | Carl Gibson | The Boeing Company |
| Washington | 7/9/2022 | Tank Truck | Ray Sitton | XPO Logistics |
| Washington | 7/9/2022 | Twins | Joshua Friedges | Old Dominion Freight Line |
| West Virginia | 6/25/2022 | 3-Axle | Larry Gorby | XPO Logistics |
| West Virginia | 6/25/2022 | 4-Axle | Randy Thomas | FedEx Freight |
| West Virginia | 6/25/2022 | 5-Axle | Ken Barnett | FedEx Freight |
| West Virginia | 6/25/2022 | Flatbed | Kenneth Grimmett | XPO Logistics |
| West Virginia | 6/25/2022 | Grand Champion | Kenneth Grimmett | XPO Logistics |
| West Virginia | 6/25/2022 | Sleeper Berth | Jack Davenport | BPM |
| West Virginia | 6/25/2022 | Step Van | Brian Ash | FedEx Ground |
| West Virginia | 6/25/2022 | Straight Truck | Charles Randolph | Pitt Ohio |
| West Virginia | 6/25/2022 | Tank Truck | John Gibson | ABF Freight |
| West Virginia | 6/25/2022 | Twins | William Adkins | FedEx Freight |
| Wisconsin | 5/20/2022 | 3-Axle | Barry Kraemer | XPO Logistics |
| Wisconsin | 5/20/2022 | 4-Axle | Andrew Rynearson | XPO Logistics |
| Wisconsin | 5/20/2022 | 5-Axle | Duane Staveness | FedEx Freight |
| Wisconsin | 5/20/2022 | Flatbed | Ben Messenger | XPO Logistics |
| Wisconsin | 5/20/2022 | Grand Champion | Duane Staveness | FedEx Freight |
| Wisconsin | 5/20/2022 | Sleeper Berth | Michael Gallagher | Duplainville Transport |
| Wisconsin | 5/20/2022 | Straight Truck | Brent Glassnap | FedEx Freight |
| Wisconsin | 5/20/2022 | Tank Truck | Tom Fullerton | XPO Logistics |
| Wisconsin | 5/20/2022 | Twins | Jeff Langenhahn | XPO Logistics |
| Wyoming | 6/11/2022 | 4-Axle | Randy Ferguson | Old Dominion Freight Line |
| Wyoming | 6/11/2022 | Flatbed | Kenneth Rageth | FedEx Freight |
| Wyoming | 6/11/2022 | Grand Champion | Jedediah Boyd | FedEx Freight |
| Wyoming | 6/11/2022 | Straight Truck | Jedediah Boyd | FedEx Freight |
| Wyoming | 6/11/2022 | Tank Truck | Todd Miller | Airgas USA |
| Wyoming | 6/11/2022 | Twins | Andrew Kelly | ABF Freight |