Up Front
INDIANAPOLIS — As Aaron Sharp watched the parade of competitors taking their place on the floor of the Indiana Convention Center for the National Truck Driving Championships' "Walk of Champions" Aug. 19, he kept his eyes peeled for one participant in particular — his father, David Sharp.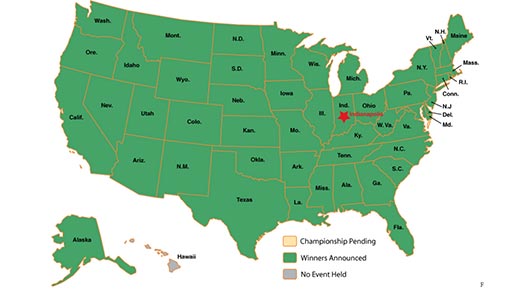 Click on a yellow state to see when its event is scheduled; a green state to see who was named Grand Champion.
Check out images from the 2022 awards presentation — not just the winners, but shots of all 45 finalists as well.
State Champions
| State | Date | Classification | Winner | Company |
| --- | --- | --- | --- | --- |
| Alabama | 5/27/2022 | 3-Axle | Tony Johnson | TForce Freight |
| Alabama | 5/27/2022 | 4-Axle | William Brandon | FedEx Freight |
| Alabama | 5/27/2022 | 5-Axle | Alphonso Lewis | Yellow |
| Alabama | 5/27/2022 | Flatbed | Thomas Garner | FedEx Freight |
| Alabama | 5/27/2022 | Grand Champion | Dan Thompson | FedEx Freight |
| Alabama | 5/27/2022 | Sleeper Berth | Jason Webber | LB3 |
| Alabama | 5/27/2022 | Straight Truck | David Hawk | FedEx Freight |
| Alabama | 5/27/2022 | Tank Truck | John Carter | FedEx Freight |
| Alabama | 5/27/2022 | Twins | Dan Thompson | FedEx Freight |
| Alaska | 6/4/2022 | 3-Axle | Matthew Mongeau | FedEx Express |
| Alaska | 6/4/2022 | 4-Axle | Michael Bradley Hinkes | Carlile |
| Alaska | 6/4/2022 | 5-Axle | Edward Tuia | Alaska West Express |
| Alaska | 6/4/2022 | Flatbed | Tevita Toetu | Lynden |
| Alaska | 6/4/2022 | Grand Champion | Michael Bradley Hinkes | Carlile |
| Alaska | 6/4/2022 | Sleeper Berth | Jeremiah Payne | American Fast Freight |
| Alaska | 6/4/2022 | Step Van | Jerome Dela Cruz | FedEx Express |
| Alaska | 6/4/2022 | Straight Truck | Adam Vargason | Span Alaska |
| Alaska | 6/4/2022 | Tank Truck | William Krenz | Carlile |
| Alaska | 6/4/2022 | Twins | Matthew Carroll | American Fast Freight |
| Arizona | 4/9/2022 | 3-Axle | Chase Peterson | Shamrock Foods Co. |
| Arizona | 4/9/2022 | 4-Axle | Reynaldo Murrieta | FedEx Freight |
| Arizona | 4/9/2022 | 5-Axle | John M. Housley | Freeport Transportation |
| Arizona | 4/9/2022 | Flatbed | Eric Ramsdell | Walmart Supply Chain |
| Arizona | 4/9/2022 | Grand Champion | Mike Alpine | ABF Freight |
| Arizona | 4/9/2022 | Sleeper Berth | Mike Alpine | ABF Freight |
| Arizona | 4/9/2022 | Step Van | Adrian Nune | UPS |
| Arizona | 4/9/2022 | Straight Truck | David Coffel | FedEx Express |
| Arizona | 4/9/2022 | Tank Truck | Ina Daly | XPO Logistics |
| Arizona | 4/9/2022 | Twins | Kelly Brown | FedEx Freight |
| Arkansas | 6/24/2022 | 3-Axle | Chaunce Umfleet | FedEx Express |
| Arkansas | 6/24/2022 | 4-Axle | Rick Dean | Walmart Transportation |
| Arkansas | 6/24/2022 | 5-Axle | Justin France | Maverick Transportation |
| Arkansas | 6/24/2022 | Flatbed | Marcus Rush | Walmart Transportation |
| Arkansas | 6/24/2022 | Grand Champion | Dennis Hall | Tyson Foods |
| Arkansas | 6/24/2022 | Sleeper Berth | Dennis Hall | Tyson Foods |
| Arkansas | 6/24/2022 | Step Van | Chris James | FedEx Ground |
| Arkansas | 6/24/2022 | Straight Truck | Eric Clark | FedEx Freight |
| Arkansas | 6/24/2022 | Tank Truck | Bret McBain | Walmart Transportation |
| Arkansas | 6/24/2022 | Twins | Aaron Frisby | Walmart Transportation |
| California | 5/21/2022 | 3-Axle | Carlos Montoya | Yellow |
| California | 5/21/2022 | 4-Axle | Jose Perez Jr. | FedEx Express |
| California | 5/21/2022 | 5-Axle | Art Trujillo | FedEx Freight |
| California | 5/21/2022 | Flatbed | Steve Hutton | Walmart |
| California | 5/21/2022 | Grand Champion | Art Trujillo | FedEx Freight |
| California | 5/21/2022 | Sleeper Berth | Shane Naisbitt | Walmart |
| California | 5/21/2022 | Step Van | Ocar Enciso | FedEx Ground |
| California | 5/21/2022 | Straight Truck | Victor Solano | FedEx Freight |
| California | 5/21/2022 | Tank Truck | Jose Gastelum | Cox Petroleum Transport |
| California | 5/21/2022 | Twins | Tracy Dewees | Yellow |
| Colorado | 6/4/2022 | 3-Axle | Paul Swan | FedEx Freight |
| Colorado | 6/4/2022 | 4-Axle | Mark Lannerd | XPO Logistics |
| Colorado | 6/4/2022 | 5-Axle | Ron Rice Jr. | Mile Hi Foods |
| Colorado | 6/4/2022 | Flatbed | Rich Merich | FedEx Freight |
| Colorado | 6/4/2022 | Grand Champion | David Mogler | FedEx Freight |
| Colorado | 6/4/2022 | Sleeper Berth | Jesse Gonzalez | Mile Hi Foods |
| Colorado | 6/4/2022 | Straight Truck | Nate McCarty | ABF Freight |
| Colorado | 6/4/2022 | Tank Truck | Todd Flippin | FedEx Freight |
| Colorado | 6/4/2022 | Twins | David Mogler | FedEx Freight |
| Connecticut | 6/11/2022 | 3-Axle | James Dixon | A. Duie Pyle |
| Connecticut | 6/11/2022 | 4-Axle | Dave Buonocore | Bozzuto's |
| Connecticut | 6/11/2022 | 5-Axle | John Lanty | Martin Brower |
| Connecticut | 6/11/2022 | Flatbed | John Brown | Scott's Miracle Gro |
| Connecticut | 6/11/2022 | Grand Champion | Roland Bolduc | FedEx Express |
| Connecticut | 6/11/2022 | Sleeper Berth | Roland Bolduc | FedEx Express |
| Connecticut | 6/11/2022 | Step Van | John Sanchez | FedEx Express |
| Connecticut | 6/11/2022 | Straight Truck | Karen Roderick | FedEx Ground |
| Connecticut | 6/11/2022 | Tank Truck | Tony Spero | ABF Freight |
| Connecticut | 6/11/2022 | Twins | Ernie Budlowski | XPO Logistics |
| Delaware | 5/14/2022 | 4-Axle | Phyllip Brunhammer | Walmart Transportation |
| Delaware | 5/14/2022 | 5-Axle | Robert Benton | Walmart Transportation |
| Delaware | 5/14/2022 | Flatbed | Robert Davis | Walmart Transportation |
| Delaware | 5/14/2022 | Grand Champion | Phyllip Brunhammer | Walmart Transportation |
| Delaware | 5/14/2022 | Sleeper Berth | Paul Marks | Walmart Transportation |
| Delaware | 5/14/2022 | Step Van | Thomas Gill | FedEx Ground |
| Delaware | 5/14/2022 | Straight Truck | Edward Hill | FedEx Freight |
| Delaware | 5/14/2022 | Twins | George Sweeney | Walmart Transportation |
| Florida | 6/9/2022 | 3-Axle | Miguel Sanchez | UPS |
| Florida | 6/9/2022 | 4-Axle | Jorge Alfonso | FedEx Freight |
| Florida | 6/9/2022 | 5-Axle | David Guinn | Publix Super Markets |
| Florida | 6/9/2022 | Flatbed | Glenn Hosegood | FedEx Freight |
| Florida | 6/9/2022 | Grand Champion | David Guinn | Publix Super Markets |
| Florida | 6/9/2022 | Sleeper Berth | Anthony Tirone | Walmart |
| Florida | 6/9/2022 | Step Van | Michelle Poirier | FedEx Express |
| Florida | 6/9/2022 | Straight Truck | Becky Nelson | FedEx Express |
| Florida | 6/9/2022 | Tank Truck | Sheldon Brown | FedEx Freight |
| Florida | 6/9/2022 | Twins | Leslie Smyth | FedEx Freight |
| Georgia | 5/5/2022 | 3-Axle | Brent Darnell | Southeastern Freight Lines |
| Georgia | 5/5/2022 | 4-Axle | Tim McElwaney | ABF Freight |
| Georgia | 5/5/2022 | 5-Axle | Ray Shepherd | Southeastern Freight Lines |
| Georgia | 5/5/2022 | Flatbed | Joey Martel | ABF Freight |
| Georgia | 5/5/2022 | Grand Champion | Herschel Evans | Yellow |
| Georgia | 5/5/2022 | Sleeper Berth | Luke Yoakum | Southeastern Freight Lines |
| Georgia | 5/5/2022 | Straight Truck | Ronnie Merritt | FedEx Freight |
| Georgia | 5/5/2022 | Tank Truck | Glenn Morris | FedEx Freight |
| Georgia | 5/5/2022 | Twins | Herschel Evans | Yellow |
| Hawaii | 6/11/2022 | | No state event held | |
| Idaho | 5/6/2022 | 3-Axle | Matthew Housely | FedEx Freight |
| Idaho | 5/6/2022 | 4-Axle | Jeff Halford | XPO Logistics |
| Idaho | 5/6/2022 | 5-Axle | Tony Rhoades | Old Dominion Freight Line |
| Idaho | 5/6/2022 | Flatbed | Cory Weber | Old Dominion Freight Line |
| Idaho | 5/6/2022 | Grand Champion | Paul Callahan | Yellow |
| Idaho | 5/6/2022 | Sleeper Berth | Kolton Schultz | XPO Logistics |
| Idaho | 5/6/2022 | Step Van | Luciano Amorim | FedEx Ground |
| Idaho | 5/6/2022 | Straight Truck | Bill Nolan | Old Dominion Freight Line |
| Idaho | 5/6/2022 | Tank Truck | Paul Callahan | Yellow |
| Idaho | 5/6/2022 | Twins | Mark VanBlaricom | Old Dominion Freight Line |
| Illinois | 6/3/2022 | 3-Axle | Aaron Mendoza | FedEx Freight |
| Illinois | 6/3/2022 | 4-Axle | Miguel Corral Jr. | UPS |
| Illinois | 6/3/2022 | 5-Axle | Tim Banasiak | UPS |
| Illinois | 6/3/2022 | Flatbed | Bill O'Connor | UPS |
| Illinois | 6/3/2022 | Grand Champion | Ceth Christensen | UPS |
| Illinois | 6/3/2022 | Sleeper Berth | Peter Palczynski | Walmart |
| Illinois | 6/3/2022 | Step Van | Ceth Christensen | UPS |
| Illinois | 6/3/2022 | Straight Truck | Tom LeCour | UPS |
| Illinois | 6/3/2022 | Tank Truck | Dave Miller | UPS |
| Illinois | 6/3/2022 | Twins | Douglas Hurley | FedEx Freight |
| Indiana | 6/10/2022 | 3-Axle | Michael Rummel | Old Dominion Freight Line |
| Indiana | 6/10/2022 | 4-Axle | Tom Riggins | FedEx Ground |
| Indiana | 6/10/2022 | 5-Axle | Dawn Cochran | Old Dominion Freight Line |
| Indiana | 6/10/2022 | Flatbed | Glen Kirk | Old Dominion Freight Line |
| Indiana | 6/10/2022 | Grand Champion | Mike White | Walmart |
| Indiana | 6/10/2022 | Sleeper Berth | Mike White | Walmart |
| Indiana | 6/10/2022 | Step Van | C.T. Bachman | UPS |
| Indiana | 6/10/2022 | Straight Truck | Tony Wideman | FedEx Freight |
| Indiana | 6/10/2022 | Tank Truck | Dennis Shirar | Walmart |
| Indiana | 6/10/2022 | Twins | Shannon Lynch | UPS |
| Iowa | 6/9/2022 | 3-Axle | Jimmy Lair | FedEx Freight |
| Iowa | 6/9/2022 | 4-Axle | Allen Sohn | FedEx Freight |
| Iowa | 6/9/2022 | 5-Axle | Dean Filmer | Decker Truck Line |
| Iowa | 6/9/2022 | Flatbed | Toby Royster | FedEx Freight |
| Iowa | 6/9/2022 | Grand Champion | Allen Sohn | FedEx Freight |
| Iowa | 6/9/2022 | Sleeper Berth | Tex Halligan | Ruan Transportation |
| Iowa | 6/9/2022 | Straight Truck | Richard Barre | XPO Logistics |
| Iowa | 6/9/2022 | Tank Truck | Warren Ratliff | Questliner |
| Iowa | 6/9/2022 | Twins | Steven Iburg | XPO Logistics |
| Kansas | 6/17/2022 | 3-Axle | Ernie Arnote | XPO Logistics |
| Kansas | 6/17/2022 | 4-Axle | Robert Erwin | ABF Freight |
| Kansas | 6/17/2022 | 5-Axle | Jason Damron | Convoy Systems |
| Kansas | 6/17/2022 | Flatbed | Terry Covey | FedEx Freight |
| Kansas | 6/17/2022 | Grand Champion | Terry Covey | FedEx Freight |
| Kansas | 6/17/2022 | Sleeper Berth | Steve Dixon | Walmart Transportation |
| Kansas | 6/17/2022 | Straight Truck | Dean Harris | FedEx Freight |
| Kansas | 6/17/2022 | Tank Truck | Ken Saur | XPO Logistics |
| Kansas | 6/17/2022 | Twins | Bryce Dock | XPO Logistics |
| Kentucky | 5/20/2022 | 3-Axle | Danta Barbour | UPS |
| Kentucky | 5/20/2022 | 4-Axle | Mark Brooks | UPS |
| Kentucky | 5/20/2022 | 5-Axle | John Higgs | FedEx Freight |
| Kentucky | 5/20/2022 | Flatbed | Dale Brenaman | UPS |
| Kentucky | 5/20/2022 | Grand Champion | Dante Barbour | UPS |
| Kentucky | 5/20/2022 | Sleeper Berth | Christopher Turner | Walmart Transportation |
| Kentucky | 5/20/2022 | Step Van | Peter Dreisbach Jr | UPS |
| Kentucky | 5/20/2022 | Straight Truck | Jesse Benkert | FedEx Ground |
| Kentucky | 5/20/2022 | Tank Truck | Jerry Wrinkle | Walmart Transportation |
| Kentucky | 5/20/2022 | Twins | Derek Schweinhart | FedEx Freight |
| Louisiana | 3/4/2022 | 3-Axle | James Maxwell | FedEx Freight |
| Louisiana | 3/4/2022 | 4-Axle | Jerry Farmer | XPO Logistics |
| Louisiana | 3/4/2022 | 5-Axle | Glen Winston | C&S Wholesale Services |
| Louisiana | 3/4/2022 | Flatbed | Larry Smith | XPO Logistics |
| Louisiana | 3/4/2022 | Grand Champion | Eric Courville | FedEx Freight |
| Louisiana | 3/4/2022 | Sleeper Berth | Eric Courville | FedEx Freight |
| Louisiana | 3/4/2022 | Step Van | Donald Williams | FedEx Ground |
| Louisiana | 3/4/2022 | Straight Truck | Corey Mitchell | FedEx Freight |
| Louisiana | 3/4/2022 | Tank Truck | Johnnie Long | Walmart Transportation |
| Louisiana | 3/4/2022 | Twins | Damien Hebert | XPO Logistics |
| Maine | 5/21/2022 | 3-Axle | Alan Paradis | A & A Trucking |
| Maine | 5/21/2022 | 4-Axle | Robert Fernald | Walmart Transportation |
| Maine | 5/21/2022 | 5-Axle | Kenneth Duncan | Walmart Transportation |
| Maine | 5/21/2022 | Flatbed | Jonathan Sawyer | Walmart Transportation |
| Maine | 5/21/2022 | Grand Champion | Alan Paradis | A & A Trucking |
| Maine | 5/21/2022 | Sleeper Berth | Wayne Martin | Hartt Transportation |
| Maine | 5/21/2022 | Step Van | Robert Cochran | FedEx Express |
| Maine | 5/21/2022 | Straight Truck | Jeff Granholm | Pottle's Transportation |
| Maine | 5/21/2022 | Tank Truck | Haleigh Fickett | R.H. Foster |
| Maine | 5/21/2022 | Twins | Matthew Richardson | Performance Food Group |
| Maryland | 6/4/2022 | 3-Axle | Lou Petrovia | XPO Logistics |
| Maryland | 6/4/2022 | 4-Axle | Cole Miltenberger | Pitt Ohio Express |
| Maryland | 6/4/2022 | 5-Axle | Brandon Hose | Pitt Ohio Express |
| Maryland | 6/4/2022 | Flatbed | Jerome Spencer | Giant of Maryland |
| Maryland | 6/4/2022 | Grand Champion | Joyce Bain | FedEx Ground |
| Maryland | 6/4/2022 | Sleeper Berth | Joyce Bain | FedEx Ground |
| Maryland | 6/4/2022 | Step Van | Greg Long | FedEx Express |
| Maryland | 6/4/2022 | Straight Truck | Daniel Seekford | Pitt Ohio Express |
| Maryland | 6/4/2022 | Tank Truck | James Brooks | UPS Inc. |
| Maryland | 6/4/2022 | Twins | Gregory Hess | FedEx Freight |
| Massachussetts | 6/5/2022 | 3-Axle | Karen Tierney | FedEx Express |
| Massachussetts | 6/5/2022 | 4-Axle | Christopher Buswell | FedEx Freight |
| Massachussetts | 6/5/2022 | Flatbed | Richard Sweeney | XPO Logistics |
| Massachussetts | 6/5/2022 | Grand Champion | Karen Tierney | FedEx Express |
| Massachussetts | 6/5/2022 | Straight Truck | William Colantuone | FedEx Express |
| Massachussetts | 6/5/2022 | Twins | Richard Gray | FedEx Freight |
| Michigan | 6/10/2022 | Step Van | Phillip Lawrence | FedEx Ground |
| Michigan | 6/10/2022 | 3-Axle | Steven Rose | Yellow |
| Michigan | 6/10/2022 | 4-Axle | Clent Simmons | FedEx Freight |
| Michigan | 6/10/2022 | 5-Axle | Steven Tobolic | Yellow |
| Michigan | 6/10/2022 | Flatbed | Mark Behr | ABF Freight |
| Michigan | 6/10/2022 | Grand Champion | Chad Williams | Old Dominion Freight Line |
| Michigan | 6/10/2022 | Sleeper Berth | Michael Wolf | FedEx Freight |
| Michigan | 6/10/2022 | Straight Truck | Ty Possehn | FedEx Freight |
| Michigan | 6/10/2022 | Tank Truck | Steven Elliston | Walmart Transportation |
| Michigan | 6/10/2022 | Twins | Chad Williams | Old Dominion Freight Line |
| Minnesota | 6/25/2022 | 3-Axle | Larry Steffensen | FedEx Freight |
| Minnesota | 6/25/2022 | 4-Axle | Bruce Quaal | ABF Freight |
| Minnesota | 6/25/2022 | 5-Axle | Scott Oehrlein | Corborn's Inc. |
| Minnesota | 6/25/2022 | Flatbed | Chad Abts | Stan Koch & Son's Trucking |
| Minnesota | 6/25/2022 | Grand Champion | Reggie Copeland | FedEx Freight |
| Minnesota | 6/25/2022 | Sleeper Berth | Jordan Smith | Walmart Transportation |
| Minnesota | 6/25/2022 | Step Van | Alex Lofgren | FedEx Express |
| Minnesota | 6/25/2022 | Straight Truck | Reggie Copeland | FedEx Freight |
| Minnesota | 6/25/2022 | Tank Truck | Jesse Harren | Yellow |
| Minnesota | 6/25/2022 | Twins | Ben Kurzhal | Old Dominion Freight Line |
| Mississippi | 4/29/2022 | 3-Axle | Jackie Reed | FedEx Freight |
| Mississippi | 4/29/2022 | 4-Axle | Lonnie Walker | ABF Freight |
| Mississippi | 4/29/2022 | 5-Axle | Archie Burras | Total Transportation of Mississippi |
| Mississippi | 4/29/2022 | Flatbed | John Smith Jr. | FedEx Ground |
| Mississippi | 4/29/2022 | Grand Champion | Jackie Reed | FedEx Freight |
| Mississippi | 4/29/2022 | Sleeper Berth | Phil Harrison | Gulf Relay |
| Mississippi | 4/29/2022 | Step Van | Antonio Tompkins | FedEx Ground |
| Mississippi | 4/29/2022 | Straight Truck | Keith Reynaud | Walmart |
| Mississippi | 4/29/2022 | Tank Truck | Rickey Oliver | Walmart |
| Mississippi | 4/29/2022 | Twins | Randy Byrd | FedEx Freight |
| Missouri | 6/3/2022 | 3-Axle | Michael Chatterton | FedEx Freight |
| Missouri | 6/3/2022 | 4-Axle | Brent Sims | FedEx Freight |
| Missouri | 6/3/2022 | 5-Axle | Joseph Hartsell | TForce Freight |
| Missouri | 6/3/2022 | Flatbed | Scott Fischer | Prime |
| Missouri | 6/3/2022 | Grand Champion | Michael Chatterton | FedEx Freight |
| Missouri | 6/3/2022 | Sleeper Berth | Bobby Chilcoat | CFI |
| Missouri | 6/3/2022 | Straight Truck | Joshua Hogue | Hogan Transports |
| Missouri | 6/3/2022 | Tank Truck | Duane Grimme | Prime |
| Missouri | 6/3/2022 | Twins | Steve Fields | Yellow |
| Montana | 6/9/2022 | 3-Axle | Tom Miller | FedEx Freight |
| Montana | 6/9/2022 | 4-Axle | Mitch Wright | FedEx Freight |
| Montana | 6/9/2022 | 5-Axle | Barrett Browning | FedEx Freight |
| Montana | 6/9/2022 | Flatbed | Donald Jones | FedEx Freight |
| Montana | 6/9/2022 | Grand Champion | Scott Lorio | FedEx Freight |
| Montana | 6/9/2022 | Sleeper Berth | Lyle Turville | Decker Truck Line |
| Montana | 6/9/2022 | Step Van | Michael Cox | FedEx Freight |
| Montana | 6/9/2022 | Straight Truck | Richard Grayson | FedEx Freight |
| Montana | 6/9/2022 | Tank Truck | Keith Linn | FedEx Freight |
| Montana | 6/9/2022 | Twins | Scott Lorio | FedEx Freight |
| Nebraska | 6/3/2022 | 3-Axle | Joe Busch | ABF Freight System |
| Nebraska | 6/3/2022 | 4-Axle | Phil Delauder | Werner Enterprises |
| Nebraska | 6/3/2022 | 5-Axle | James Moeller | YRC Freight |
| Nebraska | 6/3/2022 | Flatbed | Robie Jensen | Fremont Contract Carriers |
| Nebraska | 6/3/2022 | Grand Champion | Eric Stein | Werner Enterprises |
| Nebraska | 6/3/2022 | Sleeper Berth | John Putney | Greater Omaha Express |
| Nebraska | 6/3/2022 | Step Van | Jenni VonBonn | FedEx Express |
| Nebraska | 6/3/2022 | Straight Truck | Clint Rast | ABF Freight System |
| Nebraska | 6/3/2022 | Tank Truck | Larry Derr | Werner Enterprises |
| Nebraska | 6/3/2022 | Twins | Eric Stein | Werner Enterprises |
| Nevada | 4/23/2022 | 3-Axle | Jose Vizcarrondo | Yellow |
| Nevada | 4/23/2022 | 4-Axle | Brandon Hardy | XPO Logistics |
| Nevada | 4/23/2022 | 5-Axle | Patrick Nerger | FedEx Ground |
| Nevada | 4/23/2022 | Flatbed | Eric Flick | UPS |
| Nevada | 4/23/2022 | Grand Champion | Aaron Sharp | UPS |
| Nevada | 4/23/2022 | Sleeper Berth | David Sharp | UPS |
| Nevada | 4/23/2022 | Step Van | Jason Sarmiento | UPS |
| Nevada | 4/23/2022 | Straight Truck | Aaron Sharp | UPS |
| Nevada | 4/23/2022 | Tank Truck | Randy Stromlund | UPS |
| Nevada | 4/23/2022 | Twins | Matt Hart | FedEx Freight |
| New Hampshire | 6/4/2022 | 3-Axle | Peter Borges | FedEx Express |
| New Hampshire | 6/4/2022 | 4-Axle | William Cook | Yellow Freight |
| New Hampshire | 6/4/2022 | 5-Axle | Kerry Jenkins | Walmart |
| New Hampshire | 6/4/2022 | Flatbed | Richard Hill | Walmart |
| New Hampshire | 6/4/2022 | Grand Champion | Peter Borges | FedEx Freight |
| New Hampshire | 6/4/2022 | Sleeper Berth | Christopher Stockton | Walmart |
| New Hampshire | 6/4/2022 | Step Van | Charles Putnam | FedEx Freight |
| New Hampshire | 6/4/2022 | Twins | Robert Fair | FedEx Freight |
| New Jersey | 6/4/2022 | 3-Axle | Wilbert Vano | XPO Logistics |
| New Jersey | 6/4/2022 | 4-Axle | Doug Simonelli | A. Duie Pyle |
| New Jersey | 6/4/2022 | 5-Axle | Carlos Chavarriaga | UPS Inc. |
| New Jersey | 6/4/2022 | Flatbed | Dominick Vanacore | UPS Inc. |
| New Jersey | 6/4/2022 | Grand Champion | Wilbert Vano | XPO Logistics |
| New Jersey | 6/4/2022 | Sleeper Berth | Leszek Beben | FedEx Freight |
| New Jersey | 6/4/2022 | Step Van | John Ogundele | UPS Inc. |
| New Jersey | 6/4/2022 | Straight Truck | Ed Conrad | FedEx Express |
| New Jersey | 6/4/2022 | Tank Truck | Luis Agudelo | FedEx Freight |
| New Jersey | 6/4/2022 | Twins | Remedios Camacho | FedEx Freight |
| New Mexico | 5/19/2022 | 3-Axle | Mike Johnson | Yellow |
| New Mexico | 5/19/2022 | 4-Axle | Justin Gallant | ABF Freight |
| New Mexico | 5/19/2022 | 5-Axle | Daniel Bruch | FedEx Freight |
| New Mexico | 5/19/2022 | Flatbed | Carlos Sandoval | XPO Logistics |
| New Mexico | 5/19/2022 | Grand Champion | Chris Shaw | FedEx Express |
| New Mexico | 5/19/2022 | Sleeper Berth | Ralph Garcia | ABF Freight |
| New Mexico | 5/19/2022 | Step Van | Daniel Sloey | FedEx Ground |
| New Mexico | 5/19/2022 | Straight Truck | Chris Shaw | FedEx Express |
| New Mexico | 5/19/2022 | Tank Truck | Shawn Hale | ABF Freight |
| New Mexico | 5/19/2022 | Twins | Antonio Vigil | XPO Logistics |
| New York | 6/10/2022 | 3-Axle | John Jadrossich | FedEx Freight |
| New York | 6/10/2022 | 4-Axle | Marty McMahon | RIST Transport |
| New York | 6/10/2022 | 5-Axle | Estevez Oliver | Martin Brower Co. |
| New York | 6/10/2022 | Flatbed | Ray Waage | FedEx Freight |
| New York | 6/10/2022 | Grand Champion | John Jadrossich | FedEx Freight |
| New York | 6/10/2022 | Sleeper Berth | David Cady | Walmart Supply Chain |
| New York | 6/10/2022 | Step Van | Patrick Collins | FedEx Express |
| New York | 6/10/2022 | Tank Truck | Zachary Bourque | HazMat Environmental Group |
| New York | 6/10/2022 | Twins | Mark McLean | FedEx Freight |
| North Carolina | 6/10/2022 | 3-Axle | Brian Walker | TForce Freight |
| North Carolina | 6/10/2022 | 4-Axle | David Rohman | FedEx |
| North Carolina | 6/10/2022 | 5-Axle | Basher Pierce III | FedEx |
| North Carolina | 6/10/2022 | Flatbed | Daniel Harp | Walmart Transportation |
| North Carolina | 6/10/2022 | Grand Champion | Brian Walker | TForce Freight |
| North Carolina | 6/10/2022 | Sleeper Berth | Antoine Sadler | Walmart Transportation |
| North Carolina | 6/10/2022 | Step Van | Augustus Kern | FedEx |
| North Carolina | 6/10/2022 | Straight Truck | Michael Bills | FedEx |
| North Carolina | 6/10/2022 | Tank Truck | Allen McNeely | ABF Freight |
| North Carolina | 6/10/2022 | Twins | James Luckadoo | TForce Freight |
| North Dakota | 6/4/2022 | 3-Axle | Tom Tweeten | ABF Freight |
| North Dakota | 6/4/2022 | 4-Axle | David Comings | FedEx Freight |
| North Dakota | 6/4/2022 | 5-Axle | Adam Krenzel | Magnum |
| North Dakota | 6/4/2022 | Flatbed | Donald Edman | EW Wylie |
| North Dakota | 6/4/2022 | Grand Champion | Tyler Tollefson | FedEx Freight |
| North Dakota | 6/4/2022 | Sleeper Berth | Brian Evenson | Marvin Logistics |
| North Dakota | 6/4/2022 | Straight Truck | Tyler Tollefson | FedEx Freight |
| North Dakota | 6/4/2022 | Tank Truck | John Janousek | FedEx Freight |
| North Dakota | 6/4/2022 | Twins | Drew Bartelson | Old Dominion Freight Line |
| Ohio | 5/20/2022 | 3-Axle | James Emerine | FedEx Freight |
| Ohio | 5/20/2022 | 4-Axle | Chip Bechtel | Yellow |
| Ohio | 5/20/2022 | 5-Axle | JR Allen | Martin Brower |
| Ohio | 5/20/2022 | Flatbed | Jeff Rose | Yellow |
| Ohio | 5/20/2022 | Grand Champion | Scott Woodrome | FedEx Freight |
| Ohio | 5/20/2022 | Sleeper Berth | Scott Woodrome | FedEx Freight |
| Ohio | 5/20/2022 | Step Van | Aaron Snyder | FedEx Ground |
| Ohio | 5/20/2022 | Straight Truck | Jason Imhoff | Walmart Transportation |
| Ohio | 5/20/2022 | Tank Truck | David Peters | Martin Brower |
| Ohio | 5/20/2022 | Twins | David Schroeder | FedEx Freight |
| Oklahoma | 6/10/2022 | 3-Axle | Nicholas "Nick" Arnold | FedEx Freight |
| Oklahoma | 6/10/2022 | 4-Axle | Larry Kendall | FedEx Freight |
| Oklahoma | 6/10/2022 | 5-Axle | Ted Hunter | YRC Freight |
| Oklahoma | 6/10/2022 | Flatbed | Jason Corino | Melton Truck Lines |
| Oklahoma | 6/10/2022 | Grand Champion | Larry Kendall | FedEx Freight |
| Oklahoma | 6/10/2022 | Sleeper Berth | Sonny Warren | Walmart Transportation |
| Oklahoma | 6/10/2022 | Step Van | Orlando Williams Jr. | FedEx Express |
| Oklahoma | 6/10/2022 | Straight Truck | James Fabian | ABF Freight |
| Oklahoma | 6/10/2022 | Tank Truck | Robin Frey | FedEx Express |
| Oklahoma | 6/10/2022 | Twins | David Jones | ABF Freight |
| Oregon | 6/11/2022 | 3-Axle | Tim Melody | ABF Freight |
| Oregon | 6/11/2022 | 4-Axle | Daniel Shamrell | FedEx Freight |
| Oregon | 6/11/2022 | 5-Axle | Juan Covarrubias | Tradewinds |
| Oregon | 6/11/2022 | Flatbed | Chris Outen | FedEx Freight |
| Oregon | 6/11/2022 | Grand Champion | Tim Melody | ABF Freight |
| Oregon | 6/11/2022 | Sleeper Berth | Kirby Ferber | FedEx Freight |
| Oregon | 6/11/2022 | Step Van | Adam Elliott | FedEx Freight |
| Oregon | 6/11/2022 | Straight Truck | Gurinder Dhaliwal | FedEx Freight |
| Oregon | 6/11/2022 | Tank Truck | Heladio Fernandez | FedEx Freight |
| Oregon | 6/11/2022 | Twins | Ronald Zieser | FedEx Freight |
| Pennsylvania | 6/24/2022 | 3-Axle | Scott Mullen | XPO Logistics |
| Pennsylvania | 6/24/2022 | 4-Axle | Bartholomew Masciulli | FedEx Express |
| Pennsylvania | 6/24/2022 | 5-Axle | Tom Bewley | A. Duie Pyle |
| Pennsylvania | 6/24/2022 | Flatbed | Troy Wolf | Day & Ross |
| Pennsylvania | 6/24/2022 | Grand Champion | Troy Wolf | Day & Ross |
| Pennsylvania | 6/24/2022 | Sleeper Berth | James Campbell | T Force Freight |
| Pennsylvania | 6/24/2022 | Step Van | T.J. Altland | UPS |
| Pennsylvania | 6/24/2022 | Straight Truck | Leonard Monette | UPS |
| Pennsylvania | 6/24/2022 | Tank Truck | Joe Allen Boyd | Walmart Transportation |
| Pennsylvania | 6/24/2022 | Twins | John Brownawell | Yellow Freight Systems |
| Rhode Island | 6/11/2022 | 3-Axle | Joe Hicks | XPO Logistics |
| Rhode Island | 6/11/2022 | 4-Axle | Mynor Guevara | XPO Logistics |
| Rhode Island | 6/11/2022 | Grand Champion | Joe Hicks | XPO Logistics |
| Rhode Island | 6/11/2022 | Straight Truck | David Lumpkin | FedEx Express |
| Rhode Island | 6/11/2022 | Twins | William Burns | A. Duie Pyle |
| South Carolina | 4/29/2022 | 3-Axle | J.B. Quarles | Wal-Mart Stores |
| South Carolina | 4/29/2022 | 4-Axle | Kenneth Smith | Old Dominion Freight Line |
| South Carolina | 4/29/2022 | 5-Axle | Brandon Worthy | Southeastern Freight Lines |
| South Carolina | 4/29/2022 | Flatbed | Kevin Doll | FedEx Freight |
| South Carolina | 4/29/2022 | Grand Champion | J.B. Quarles | Wal-Mart Stores |
| South Carolina | 4/29/2022 | Sleeper Berth | John Hummel | TForce Freight |
| South Carolina | 4/29/2022 | Step Van | Jason Sturkie | FedEx Ground |
| South Carolina | 4/29/2022 | Straight Truck | Walter Freeman | FedEx Ground |
| South Carolina | 4/29/2022 | Tank Truck | Bill Driskell | Heniff Transportation |
| South Carolina | 4/29/2022 | Twins | Jeff Wade | Southeastern Freight Lines |
| South Dakota | 5/14/2022 | 3-Axle | Jason Skotvold | FedEx Freight |
| South Dakota | 5/14/2022 | 4-Axle | Dean Bowar | FedEx Freight |
| South Dakota | 5/14/2022 | 5-Axle | Jeremy Senger | FedEx Freight |
| South Dakota | 5/14/2022 | Flatbed | Kevin Woods | Johnson Feed |
| South Dakota | 5/14/2022 | Grand Champion | Gary Schmidt | Cliff Viessman Inc. |
| South Dakota | 5/14/2022 | Sleeper Berth | Craig Ellingson | K&J Trucking |
| South Dakota | 5/14/2022 | Straight Truck | Teri Spencer | A&A Express |
| South Dakota | 5/14/2022 | Tank Truck | Gary Schmidt | Cliff Viessman Inc. |
| South Dakota | 5/14/2022 | Twins | Mike Whitehead | FedEx Freight |
| Tennessee | 4/29/2022 | 3-Axle | Brian Turner | Old Dominion Freight Line |
| Tennessee | 4/29/2022 | 4-Axle | Thomas Vandivort | Martin Brower |
| Tennessee | 4/29/2022 | 5-Axle | Thomas Seeley | Martin Brower |
| Tennessee | 4/29/2022 | Flatbed | Phil Shelton | Walmart Transportation |
| Tennessee | 4/29/2022 | Grand Champion | Darrell Gribble | Old Dominion Freight Line |
| Tennessee | 4/29/2022 | Sleeper Berth | Stephen McCoy | Martin Brower |
| Tennessee | 4/29/2022 | Step Van | Glenn Campbell | FedEx Ground |
| Tennessee | 4/29/2022 | Straight Truck | Darrell Gribble | Old Dominion Freight Line |
| Tennessee | 4/29/2022 | Tank Truck | Ray Shelton | FedEx Freight |
| Tennessee | 4/29/2022 | Twins | Mick Gailbraith | XPO Logistics |
| Texas | 6/3/2022 | 3-Axle | David Urrea IV | H-E-B |
| Texas | 6/3/2022 | 4-Axle | Eduardo Camacho | H-E-B |
| Texas | 6/3/2022 | 5-Axle | Mario Gonzalez Jr. | H-E-B |
| Texas | 6/3/2022 | Flatbed | Noe Gomez | H-E-B |
| Texas | 6/3/2022 | Grand Champion | Dennis Mace | FedEx Freight |
| Texas | 6/3/2022 | Sleeper Berth | Robert Gonzalez | FedEx Freight |
| Texas | 6/3/2022 | Step Van | Luis Tarin | FedEx Ground |
| Texas | 6/3/2022 | Straight Truck | Dennis Mace | FedEx Freight |
| Texas | 6/3/2022 | Tank Truck | Randy Gamez Jr. | H-E-B |
| Texas | 6/3/2022 | Twins | Ronald Ramon | H-E-B |
| Utah | 6/2/2022 | 3-Axle | Robert Bjelland | Walmart Transportation |
| Utah | 6/2/2022 | 4-Axle | John Redd | FedEx Ground |
| Utah | 6/2/2022 | 5-Axle | Brandon Crossgrove | Walmart Transportation |
| Utah | 6/2/2022 | Flatbed | Scott Johnson | Old Dominion Freight Line |
| Utah | 6/2/2022 | Grand Champion | Sean McClure | Old Dominion Freight Line |
| Utah | 6/2/2022 | Sleeper Berth | Barry Geck | Walmart Transportation |
| Utah | 6/2/2022 | Step Van | Morgan Hallows | FedEx Ground |
| Utah | 6/2/2022 | Straight Truck | Judd Adams | XPO Logistics |
| Utah | 6/2/2022 | Tank Truck | Sean McClure | Old Dominion Freight Line |
| Utah | 6/2/2022 | Twins | Jeffrey Payne | Yellow Freight |
| Vermont | 6/4/2022 | 3-Axle | Robert Weller | FedEx Freight |
| Vermont | 6/4/2022 | 4-Axle | Ernest Wood | ABF Freight |
| Vermont | 6/4/2022 | Flatbed | Jeremiah Jarvis | FedEx Freight |
| Vermont | 6/4/2022 | Grand Champion | Robert Weller | FedEx Freight |
| Vermont | 6/4/2022 | Step Van | Jacob Holland | FedEx Express |
| Virginia | 5/20/2022 | 3-Axle | Mark Brundage | FedEx Express |
| Virginia | 5/20/2022 | 4-Axle | Clifford Jewell | FedEx Freight |
| Virginia | 5/20/2022 | 5-Axle | Jeffrey Rogers | FedEx Freight |
| Virginia | 5/20/2022 | Flatbed | Robert Lilly Sr. | FedEx Freight |
| Virginia | 5/20/2022 | Grand Champion | Mark Brundage | FedEx Express |
| Virginia | 5/20/2022 | Sleeper Berth | Kenny Sage | Frito-Lay |
| Virginia | 5/20/2022 | Step Van | Julie Williams | FedEx Ground |
| Virginia | 5/20/2022 | Straight Truck | David Price | FedEx Freight |
| Virginia | 5/20/2022 | Tank Truck | Christopher Walker | Walmart Transportation |
| Virginia | 5/20/2022 | Twins | Charles Bird | FedEx Freight |
| Washington | 7/9/2022 | 3-Axle | Chris Poynor | XPO Logistics |
| Washington | 7/9/2022 | 4-Axle | Timothy Davis | Peninsula Truck Lines |
| Washington | 7/9/2022 | 5-Axle | Fabien Boucher | The Boeing Company |
| Washington | 7/9/2022 | Flatbed | Rob Dean | XPO Logistics |
| Washington | 7/9/2022 | Grand Champion | Chris Poynor | XPO Logistics |
| Washington | 7/9/2022 | Sleeper Berth | Chuck Snowdon | The Boeing Company |
| Washington | 7/9/2022 | Step Van | Jaime Bautista | FedEx Express |
| Washington | 7/9/2022 | Straight Truck | Carl Gibson | The Boeing Company |
| Washington | 7/9/2022 | Tank Truck | Ray Sitton | XPO Logistics |
| Washington | 7/9/2022 | Twins | Joshua Friedges | Old Dominion Freight Line |
| West Virginia | 6/25/2022 | 3-Axle | Larry Gorby | XPO Logistics |
| West Virginia | 6/25/2022 | 4-Axle | Randy Thomas | FedEx Freight |
| West Virginia | 6/25/2022 | 5-Axle | Ken Barnett | FedEx Freight |
| West Virginia | 6/25/2022 | Flatbed | Kenneth Grimmett | XPO Logistics |
| West Virginia | 6/25/2022 | Grand Champion | Kenneth Grimmett | XPO Logistics |
| West Virginia | 6/25/2022 | Sleeper Berth | Jack Davenport | BPM |
| West Virginia | 6/25/2022 | Step Van | Brian Ash | FedEx Ground |
| West Virginia | 6/25/2022 | Straight Truck | Charles Randolph | Pitt Ohio |
| West Virginia | 6/25/2022 | Tank Truck | John Gibson | ABF Freight |
| West Virginia | 6/25/2022 | Twins | William Adkins | FedEx Freight |
| Wisconsin | 5/20/2022 | 3-Axle | Barry Kraemer | XPO Logistics |
| Wisconsin | 5/20/2022 | 4-Axle | Andrew Rynearson | XPO Logistics |
| Wisconsin | 5/20/2022 | 5-Axle | Duane Staveness | FedEx Freight |
| Wisconsin | 5/20/2022 | Flatbed | Ben Messenger | XPO Logistics |
| Wisconsin | 5/20/2022 | Grand Champion | Duane Staveness | FedEx Freight |
| Wisconsin | 5/20/2022 | Sleeper Berth | Michael Gallagher | Duplainville Transport |
| Wisconsin | 5/20/2022 | Straight Truck | Brent Glassnap | FedEx Freight |
| Wisconsin | 5/20/2022 | Tank Truck | Tom Fullerton | XPO Logistics |
| Wisconsin | 5/20/2022 | Twins | Jeff Langenhahn | XPO Logistics |
| Wyoming | 6/11/2022 | 4-Axle | Randy Ferguson | Old Dominion Freight Line |
| Wyoming | 6/11/2022 | Flatbed | Kenneth Rageth | FedEx Freight |
| Wyoming | 6/11/2022 | Grand Champion | Jedediah Boyd | FedEx Freight |
| Wyoming | 6/11/2022 | Straight Truck | Jedediah Boyd | FedEx Freight |
| Wyoming | 6/11/2022 | Tank Truck | Todd Miller | Airgas USA |
| Wyoming | 6/11/2022 | Twins | Andrew Kelly | ABF Freight |