Pete Allen
| Executive Vice President of Sales, MiX Telematics (North America)
ELD: 5 things to know NOW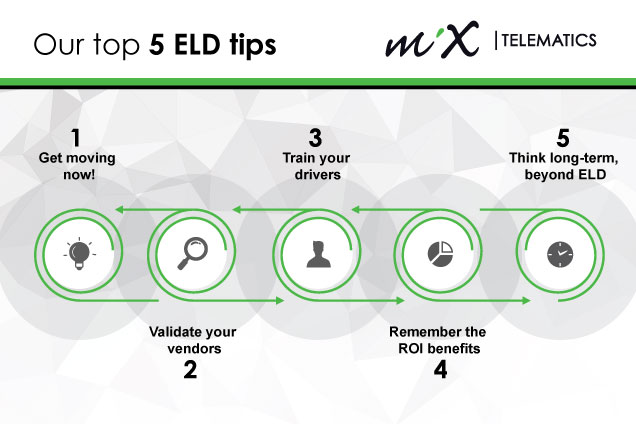 With the ELD Mandate deadline looming, it's time to face the facts: paper logbooks will soon be a thing of the past. There's not much fleet operators can do other than comply – or potentially face hefty penalties.
Here are five things you need to know about ELD right now if you've not yet started making the move.
The clock is ticking
Despite recent speculation that the mandate could be delayed or repealed, it is unlikely to happen. By December 18, fleets will need to comply with the Mandate – but the transition to ELD won't happen overnight.
Remember, it takes time to find the right vendor. It could take several weeks for equipment to arrive, then more time for installation, configuration and training. Bottom line: there is still time, but don't wait another minute to start the ball rolling.
You can't choose just any vendor
In order for fleets to be fully compliant, the chosen vendor must conform to the technical specifications laid out by the FMCSA, then self-certify their ELDs and register them with the FMCSA. But keep in mind that the FMCSA does not verify compliance, so there is no real guarantee that the ones listed by the FMCSA are actually compliant.
That is why it's important to not trust just any self-certified ELDs on the FMCSA's list, but do proper research into whether a vendor is compliant. Other important considerations:
Test prospective systems using your own data to make sure they work.
Ensure the vendor has a process in place to keep their system up to date as FMCSA rules change.
Make sure the vendor can handle the technical requirements on driver harassment.
Getting drivers onboard is key
Drivers have a lot to gain from using ELDs. No more paper logs means increased accuracy and more visibility on driving hours. But getting drivers' buy-in can be challenging, especially if they've only ever used paper logs. The trick is to train drivers on the system as it comes online to prevent a lag between training and actual use.
Training should be comprehensive and include various scenarios like everyday use, how to request or make edits to logs, and troubleshooting, for example. Once fully trained, the chances are high that drivers will co-operate in full – and that is the key to successful transitioning.    
ROI is measurable
The primary driver behind the ELD Mandate is safety and the need to better track and enforce Hours of Service (HOS) rules. In announcing the ELD Final Rule, the FMCSA stated an expected annual net benefit of more than $1 billion – not to mention saving 26 lives annually and preventing 562 injuries from crashes involving large commercial motor vehicles.
A MiX Telematics survey found that fleet management solutions help fleets reduce operating costs by $50-100 per vehicle per month after accounting for the cost of the system. That shows that a full-feature ELD solution could actually reduce a fleet's overall costs and drive Return on Investment.
You should be thinking beyond ELD, too
Apart from choosing the right technology, fleets should be looking beyond ELD compliance and choosing a vendor that can continue to offer value long after the deadline has passed. Investing in a full-feature ELD solution will deliver improved compliance, improved safety and improved efficiency. The gains in the latter two will likely help pay for the system, and more. In other words, if ELD is done right, the system should pay for itself in less than a year.
MiX Telematics is ready for ELD, are you?

MiX Telematics is a leading global provider of fleet and mobile asset management solutions delivered as SaaS to customers managing over 620,000 assets in more than 120 countries. In the U.S., MiX Telematics is known for providing the best customer support, including service for life on all solutions and dedicated account managers who proactively monitor customers' systems for optimal use. The company's products and services provide fleets of all sizes with solutions for efficiency, safety, compliance and security. MiX Telematics was founded in 1996 and has offices in the United States, South Africa, the United Kingdom, Uganda, Brazil, Australia and the United Arab Emirates as well as a network of more than 130 fleet partners worldwide. For more information, visit www.mixtelematics.com.
The above article is sponsor-generated content. To learn more about sponsor-generated content, click here.