Comprehensive System Integrates Timely Bridge Load Rating and Restrictions Management to Improve Safety and Reliability of Infrastructure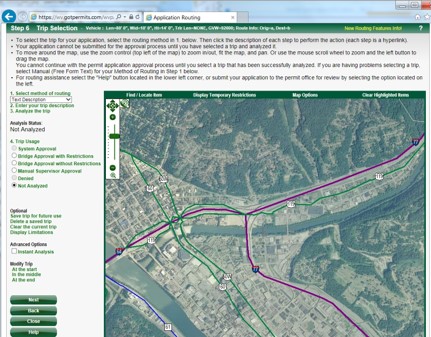 Sustaining Infrastructure while Addressing Challenges Head On
WVDOT's search for a better way of managing oversize/ overweight loads began in the mid-1990s as the Highway Division's Permits Office realized that its existing process was not going to make the long haul. "We saw that we couldn't keep up," said Bill Wolford, evaluation section supervisor and manager of West Virginia's Bridge Inspection Program. At that time the Permits Office followed what was essentially a manual process, he explained: "We consulted county maps marked with weight restrictions and general guidelines on how much was allowable to process permits." Bridge load rating was handled by technicians, but there was no way to incorporate bridge information and run a real-time permitting process. Meanwhile, trucks got heavier and larger and the frequency of loads grew higher.
As always, safety was the WVDOT's major concern. Critical to both safety and sustainability was the condition of the state's 6,800 bridges, of which 32 percent are longer than 100 feet. To achieve a unified system for intelligent routing and permit­ting that would help ensure both public safety and bridge sustainability, WVDOT selected an integrated solution: the SUPERLOAD system for automated permitting, routing, bridge analysis, and restriction management, and LARS Bridge for bridge load-rating modeling and analysis.
Wolford and Wayne Kessinger, WVDOT's permit section administrator, concur that the accuracy of checking routes and bridges remains the top advantage that SUPERLOAD brings to the permitting and routing process. "A system doing bridge analysis and checking vertical and horizontal clearances for safe passage of the vehicle … that translates to safety improvement," said Kessinger.
Achieving Excellent Return on Investment during Rapid Growth in Demand
The in-state SUPERLOAD solution was deployed in 1998 and built over three phases, moving to the web in 2001. "From phase one – the interstates – we achieved good initial savings and began to see the full potential of the system," recalled Wolford. "I estimate that we saved the equivalent of five engineers' time. "In the second phase, U.S. and West Virginia routes were added along with more advanced business and transac­tions administration capabilities. The third phase was all paved roads in state plus restrictions management and other advanced functionality that developed along the way."
During this time, the increase in SUPERLOAD applications alone is indicative of the type of growth that WVDOT was seeing in oversize/overweight permit applications. "When we started with the system, we handled maybe 10 SUPERLOAD applications a week," remembers Wolford. "Today, we handle approxi­mately 250 a week." It's telling to note that the Permit Office staff remains at eight, the same number of people as 1994, while the Bentley solution enables the organization to process many times the number of permits.
WVDOT's SUPERLOAD system currently protects about 15,000 miles and more than 5,000 bridges along state-maintained roads and the West Virginia Turnpike. This comprises all paved roads, with gravel roads to come. The central office and all 10 districts use LARS Bridge for bridges load-rating analysis. The data is automatically processed in SUPERLOAD. Additionally, WVDOT uses the Bentley AssetWise Asset Reliability (InspectTech) solution for bridge inspection.
For every request with a specified route, SUPERLOAD:
Ensures route connectivity.
Verifies clearances for all travel over or under all bridges.
Performs the live-load bridge analysis for all bridges crossed over to ensure the load can be safely handled.
Checks the entire route for temporary restrictions.
With the SUPERLOAD system now handling up to 500 permits a day, and more than 80 percent issued automatically, the staff workload is substantially reduced. Whereas originally there might be a two to three-day backlog, most permits are now issued immediately, with special cases taking anywhere from a few hours to 24 hours if the application must be submitted for engineering review. The Permits Office will likely process more than 130,000 oversize/overweight permits in 2012.
"We think that the increased volume in permits is partly due to the ease of permitting with SUPERLOAD, which means that there are a lot less haulers circumventing the system and running without permits," added Wolford. "Customer service has improved substantially – without the backlogs we used to experience."
Bentley Systems is a global leader providing engineers, constructors and owner-operators with comprehensive software solutions for advancing the design, construction and operations of transportation infrastructure. Bentley has provided solutions to highway agencies for more than three decades, and its proven and reliable solutions will help you manage your road assets on budget and on schedule. Bentley provides a complete solution for intelligent permitting, routing, and restriction management of oversize/overweight (OS/OW) vehicles. SUPERLOAD automates the permitting and routing of your vehicles, including application processing, route selection and analysis, and permit issuance – all in conformance with state restrictions and road conditions.
The above article is sponsor-generated content. To learn more about sponsor-generated content, click here.