Collisions happen. However, preventing collisions caused by drivers is challenging because driver-related risk factors must be measured on the roadway (before a collision occurs) and those factors must be addressed in a timely manner. But, understanding who is your next accident and when/how it may occur is not a guessing game. Once risk is measured and analyzed, fleets and drivers can take actions to improve driving skills and reduce collision frequency.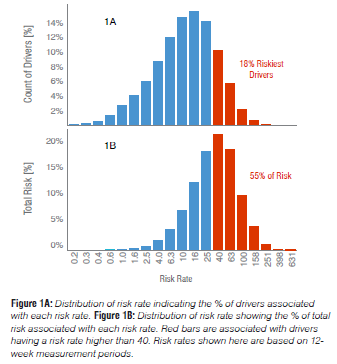 To be successful, it's important to understand how to calculate collision frequency and how an individual driver's collision frequency can influence a fleet's total number of collisions. It's important to note that, in many cases, a small proportion of drivers may be responsible for a large proportion of fleet risk and collisions. Which is why it's important to know how to properly measure risk to quickly and accurately identify those high-risk drivers.
The only way to truly understand your fleet's risk is with a video-based safety system. Video safety is quickly becoming the de facto standard for trucking fleets. With over 500,000 vehicles installed and quickly growing, video safety is protecting drivers around the world. But, with so many vehicles and so much video, it's imperative that any fleet using video safety has an efficient, effective and exacting program to manage the quantity of videos and data that result. Without it, fleet and safety managers can quickly become overwhelmed, frustrated and, ultimately, fail to produce the safety results they desire.
A video-based safety solution — with managed services that take the burden off the fleet safety or operations manager — is the right solution for today's fleet. It will save you time and money, while helping you compete in today's data-driven world. If you are considering a video safety solution without managed services, there are some issues you should consider.
Video on its Own is Not Enough
When considering whether to install a video-based safety system, there's more to your decision than just video cameras and the actual video of a driving event. Video cameras, alone, do not make your fleet safer. Improved safety comes from:
•   A rigorous coaching program that is …
•   Supported by managed services that include …
•   Expert review of the video that's captured and …
•   Actionable intelligence, metrics and KPIs
Leveraging managed services quickly delivers actionable information to the right person at the right time and ensures consistency across your coaches, locations and company—allowing your team to focus on the safety aspects of your fleet, rather than spending time reviewing videos.
Triggering video is only the first step in the process. Once a video is triggered, review by an expert analyst is a necessary step to verify and quantify the risk. But, who reviews it, how it's reviewed and then what happens to the video are all crucial aspects of a successful video-based safety program.
In addition, the scoring and prioritization of drivers is critical to a successful video-based safety program. Intuitively, you think a driver is improving. But, with many drivers in multiple locations, how do you know if they're actually safer or just being lucky? And, with managers busy with other responsibilities, how do you know if they're gaming the system and not reporting accurately on each driver's progress?
In addition to the actual videos, it's important to have continuous data that can be used to measure an individual driver's exposure to risk. By combining the trigger, observation and exposure data, and training predictive algorithms that correlate the data to past collisions, your video-based safety program will provide accurate and timely measurements of your drivers' risk rates, with the goal of focusing on the relatively small subset of drivers who harbor the most risk.
A fully functioning managed services program delivers actionable insights through easy-to-use management reporting and KPIs — critical to understanding whether your investment is paying off.
Expert, Consistent, Non-Biased Review
Expert, consistent, non-biased review is at the center of every video-based safety program. But, without a managed services program handling this critical aspect, costs can skyrocket and drivers may be treated unfairly. From recruiting and training to lack of reporting and delays, an internal program can quickly grow out of control and burden staff throughout an organization.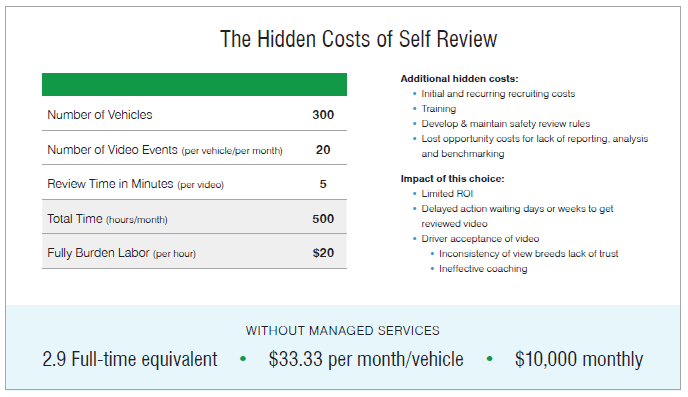 Be sure to focus on the keys that change driving skills and drive success:
•   Actionable operational metrics
•   Consistent, measurable management KPIs
•   Easy-to understand reports and dashboards for managers
•   Interactive visualizations for advanced analysis
•   The ability to export data and integrate into an existing intelligence stack
Driving safety into your fleet is about more than cameras and dollars. It's about results. For more information on Measuring the Value of a Managed Services Program and Measuring Driver Risk with Video-Based Analytics, click here.

About SmartDrive Systems
SmartDrive Systems, the recipient of Frost & Sullivan's Customer Value Leadership Award for Video Safety Solutions, gives fleets and drivers unprecedented driving performance insight and analysis, helping save fuel, expenses and lives. Its video analysis, predictive analytics and personalized performance program help fleets improve driving skills, lower operating costs and deliver significant ROI. With an easy-to-use managed service, fleets and drivers can access and self-manage driving performance anytime, anywhere. The company, which is ranked as one of the fastest growing companies by Deloitte's Technology Fast 500™, has compiled the world's largest storehouse of more than 195 million analyzed risky-driving events. SmartDrive Systems is based in San Diego, Calif., and employs over 650 people worldwide.
The above article is sponsor-generated content. To learn more about sponsor-generated content, click here.