Case Study
Maryland State Highway Administration Case Study
The Motor Carrier Division of the Maryland State Highway Administration (MDSHA) issues up to 150,000 oversize/overweight (OS/OW) permits per year for travel on more than 10,000 miles of roads, passing over and under about 5,200 bridges and underpasses. The permitted routes cross city, state, and county jurisdictions. In the past, carriers encountered significant delays as each jurisdiction had its own process for issuing specifically routed single trip and general 30- to 365-day multiple trip permits. To expedite the process, MDSHA implemented a statewide OS/OW permitting and routing system powered by Bentley's SUPERLOAD software called "Maryland One".
More than 30 government employees in five offices had to review permit requests. Processing delays at the Port cost carriers extra load handling expenses and delivery delay penalties totaling hundreds of thousands of dollars. To eliminate these costly delays, MDSHA had to make the permitting process fast, easy to navigate, and accurate. A statewide online system would remove the administrative roadblocks and enable carriers to obtain hauling permits in a secure, user-friendly environment. MDSHA launched the Maryland One project to create a one-stop source for hauling permits that would encourage compliance, cut down on illegal moves and the accidents they often cause, and make roads and bridges safer for motorists.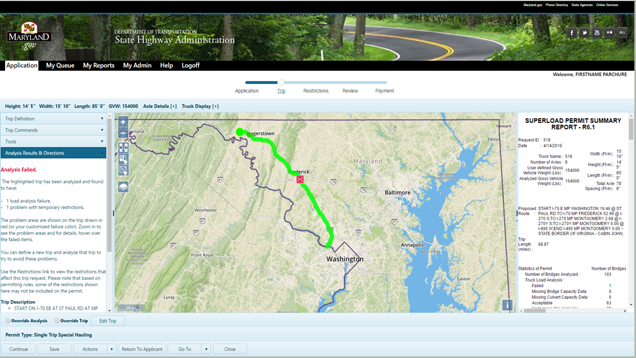 The Solution
Powered by SUPERLOAD, Maryland One allows carriers to sign in at any time, from any location, and with any desktop or mobile device. The automated registration process gets carriers on board quickly and lessens the administrative burden on permitting staff. Multiple options for immediate delivery of permit documents—including e-Permits—eliminate the wait for paperwork. Maryland One coordinates routing across jurisdictions, and issues approvals and processes fees through multiple offices, providing true one-stop shopping. For MDSHA, an added benefit of the cross-jurisdiction service is having complete records of carrier routes. Historical routing data identifies OS/OW vehicle travel trends, helping to predict where conditions may deteriorate and infrastructure improvements may be required.
SUPERLOAD leverages essential data on Maryland's roads and bridges to reduce the wear and tear on state infrastructure. Roadway location data from MDSHA's GIS, restrictions data from SUPERLOAD, and bridge inventory and inspection data from AssetWise are continually updated in the SUPERLOAD Route Network Model. In addition, LARS Bridge structural data is continually updated in the SUPERLOAD bridge database. Every permit request automatically triggers a search of this up-to-date data to determine which route for an OS/OW vehicle will have the least impact on the infrastructure, with no clearance or loading issues. By reducing the number of damaging bridge crossovers and bridge underpass hits, MDSHA will lower infrastructure maintenance costs and lengthen the time before bridge renovation or replacement is required.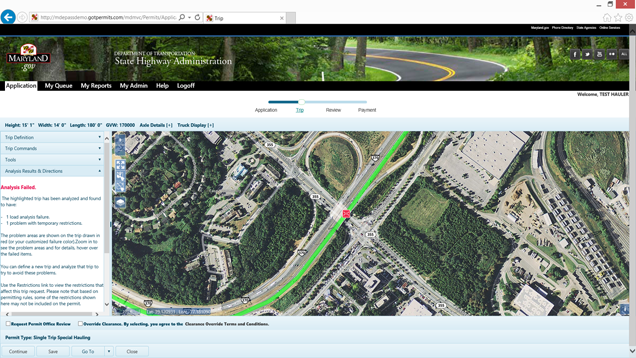 Results
If agencies save just 10 minutes per permit, the system will free up 10 full-time employees for other duties during the year. With 70-80 percent of permits being issued immediately, carriers will have no wait for manual reviews by any jurisdiction. On average, the one-stop source will save carriers at least one hour for every move they make. Given hourly load expenses of USD 200 and yearly issuance of 123,000 permits, MDSHA estimates carriers will save $24.6 million per year. By enabling carries to obtain permits more quickly and avoid costly fees, delays, and penalties, Maryland One will promote compliance, decrease the number of illegal moves, and increase safety for motorists on roads and bridges.
To read the full case study visit https://www.bentley.com/en/perspectives-and-viewpoints/topics/viewpoint/cs-mdsha-2016
Bentley Systems is a global leader providing engineers, constructors and owner-operators with comprehensive software solutions for advancing the design, construction and operations of transportation infrastructure. Bentley has provided solutions to highway agencies for more than three decades, and its proven and reliable solutions will help you manage your road assets on budget and on schedule. Bentley provides a complete solution for intelligent permitting, routing, and restriction management of oversize/overweight (OS/OW) vehicles. SUPERLOAD automates the permitting and routing of your vehicles, including application processing, route selection and analysis, and permit issuance – all in conformance with state restrictions and road conditions.
The above article is sponsor-generated content. To learn more about sponsor-generated content, click here.