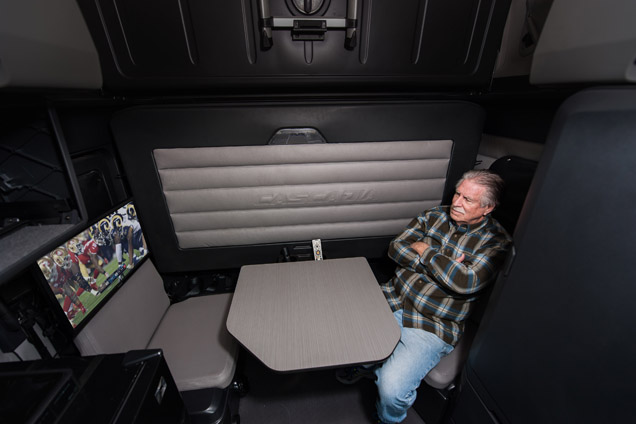 Driver entertainment technology is constantly evolving, and the way drivers access and use on-board entertainment services is changing as well. But why wait for tomorrow's technology when there's a solution that addresses driver quality of life today?
Driver entertainment, along with late model trucks, better pay and benefits packages, and favorable routes and schedules, are highly important for any successful driver recruiting and retention program. But do you want to address those aspects of driver quality of life today or wait for the next technology that might improve recruiting and retention?
Satellite is the only technology that works for our industry today, and the only one that will provide reliable, cost effective service for the next five or more years. The limitations to mobile devices that rely on cellular service and Wi-Fi systems are well known. In rural environments especially, cellular service is not always available or reliable. Likewise, Wi-Fi networks at truckstops tend to be unreliable and insufficient for large numbers of users.
Any effective decision aimed at meeting driver entertainment needs begins with addressing how your choices impact a driver's quality of life on the road. The key is the ability to provide entertainment in as similar a way as possible to the comfort and convenience that a driver has at home.
The choice of entertainment devices is also critical. The viewing experience on a TV screen more closely mimics what's found at home than a laptop, tablet or smartphone.
Equally important is the content that you are providing for driver entertainment. Drivers are consumers who work in a mobile environment so the ability to provide as much of the same content they would find at home is essential to their satisfaction with your entertainment choices.
Regardless of whether the connection is using cellular, Wi-Fi or satellite, where else can your drivers find the amount of content available on EpicVue for less than $50 per month.  EpicVue brings the best in live sports, movies and entertainment with over 100 channels of programming, premium channels such as HBO and Showtime as well as the NFL Sunday Ticket for only $49.99 per month.
At EpicVue, we've had one monthly rate that hasn't changed for the past four years. We also don't believe in teaser rates that offer low costs to start and much higher prices soon afterward.
Satellite is not a thing of the past, it is not going away, and it will continue to play an evolving role in driver entertainment technology in the next five years and beyond. EpicVue continues to leverage technology to provide an entertainment solution that has the connectivity and the content that your drivers want, need and deserve.
Satellite TV is a proven solution that addresses driver quality of life today and for the future by bringing reliable, less costly entertainment into the driver environment. With it, you can make greats strides toward maximizing their quality of life on the road.
Visit www.epicvue.com to learn how satellite TV provides a recruiting and retention advantage.

EpicVue is the industry leader in satellite tv for semi trucks and trucking fleets. Retain and recruit more drivers with EpicVue!
The above article is sponsor-generated content. To learn more about sponsor-generated content, click here.