Endurance for the Eye-catching Fleet
The TrailerBlade family of products provides superior endurance to similar products currently on the market. When comparing the value that different side skirts provide as you plan how best to outfit your fleet, it can be easy to overlook an important effect that this durability provides: good looks. Side skirts with poor durability do not only lose their physical integrity more quickly, they also can quickly turn your once-sparkling trailers into mobile eyesores.
Even when the bodies of your trailers are sleek and looking great, side skirts that have sustained wear (as happens quickly with most side skirts) can significantly detract from the overall aesthetic of your fleet. But with TrailerBlade, this is one of many concerns that you simply will not have. 
We draw attention to this because it offers a clear example not only of how our function-focused designs save you money (since less wear means less frequent repairs and replacements), but also of how they keep your fleet looking sharp. This allows your brand to come through crisply, and allows you to rest easy knowing that your fleet will look its best for years.
About the Comparison Photo
These are both TrailerBlade side skirts. One has seen five years of service, and the other is nearly new. Can you tell which is which? Neither could the many people we've showed this photo to—but the older one is on the left.
This example highlights just one of many ways in which TrailerBlade's design process, where designing for superior durability and performance is our chief goal, has the highly desirable side effect of making trailers equipped with TrailerBlade products look great for years to come.
Other TrailerBlade Products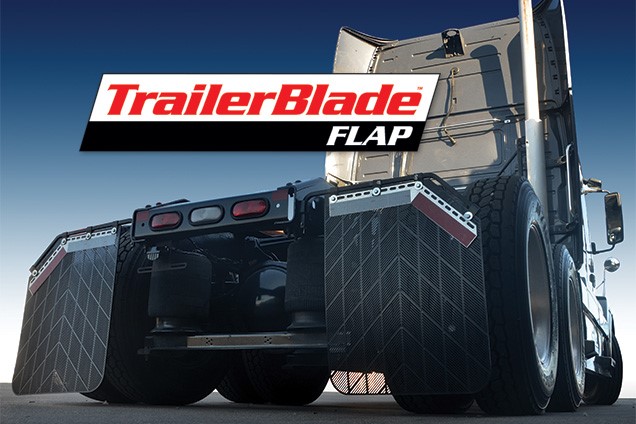 And this holds true across all of our products, too. One example of this is the TrailerBlade Door, which allows easy access to spare tires, battery compartments, storage, or tire chains with a seamless design. Another is the TrailerBlade Flap, which uses an innovative Chevron design to allow air and moisture to easily pass through, providing greater aerodynamics and reducing flap sailing—which is both unsightly and can lead to citations.
If you want great-looking trailers, you need the best products you can get. So when you're outfitting a fleet, don't settle—choose TrailerBlade.

About TrailerBlade
Strehl's leading brand, TrailerBlade, will enhance your tractor trailer by providing a proven 7% savings in fuel economy. Plus, TrailerBlade provides durability and flexibility that last through any challenge a trailer may face on the road. With Strehl's products on your fleet's tractor trailers, your trucks look, drive, and perform better. Proven results guarantee an exceptional performance.
Our products are designed to get the highest energy savings available. When you buy a Strehl product, you are buying for life. Inferior skirts leave money on the road. Choose from our line of long lasting and durable Trailerblade products.
The above article is sponsor-generated content. To learn more about sponsor-generated content, click here.