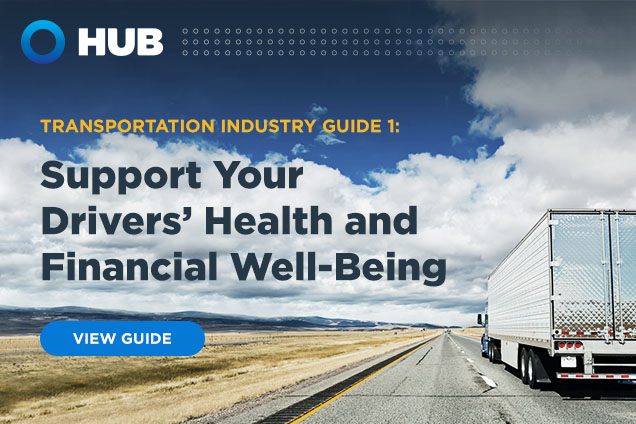 Improve your employee benefits without increasing your costs
Improving your employee benefits is one of the most cost-effective ways to attract and retain good drivers.
That's right: It's possible to offer more attractive benefits without increasing your spend. Here's how.
HUB International has identified several key benefits strategies proven to help you attract and retain quality drivers, reduce risk — and control costs.  
You'll find in-depth information on the strategies and how to apply them in the first volume of HUB's new Transportation Industry Guide series. Download it here now, or continue reading for a little context.
The situation and the solution
The American Trucking Association estimates that the transportation industry will need to hire nearly 90,000 drivers per year for the next decade to fill current and expected job vacancies. 1 But as we all know, there aren't enough drivers to go around.
In this increasingly competitive labor market, how can you find the drivers you need — let alone the experienced, reliable drivers you want?
The answer is surprisingly simple, and it starts with being good to your drivers.
Good benefits signal a good employer
Optimizing employee benefits to support the health and financial well-being of your drivers is one of the easiest — and most cost-effective — ways to make your company an attractive place to work. When asked, more than 75% of workers say benefits are key when deciding to accept or reject a job offer.2
Improving your benefits plan can also help you increase productivity and profitability. But first, you have to find the right benefits to offer.
Proven strategies to spend less and become more competitive
Competing for talent requires employers to offer a wide range of benefits, some paid for by the company, others by the employee. It's important to understand what drivers want, and how those benefits fit into the workplace and overall budget.
HUB International is one of the largest insurance brokers that specializes in serving the trucking industry, so its transportation industry page is a good place to start. It offers resources that include:
Recommended benefits to support drivers' financial well-being
Tactics for promoting a healthy lifestyle on the road
Practical cost-management measures to help reduce your overall benefits spend
Real-life case studies that demonstrate the ROI of tailored benefits
A downloadable eBook for offline reference
Visit HUB's transportation industry resource page to learn more.
When you visit the page, be sure to subscribe for updates from HUB. They're constantly adding content to help you address the challenges facing your business — upcoming topics include improving safety and reducing your total cost of risk.
1http://progressive2.acs.playstream.com/truckline/progressive/ATAs%20Driver%20Shortage%20Report%202017.pdf
2Employee Benefit Research Institute (EBRI)

Complete protection on the road to success
Our insurance and risk management specialists can help you get where you're going, with advice on how to attract and retain drivers, improve safety scores and ensure compliance. So you can focus on what matters most: delivering for your customers.
Learn how we can help protect your bottom line with comprehensive business insurance, employee benefits and risk management solutions for motor carriers and owner-operators.
Contact a HUB broker today at hubtransportation.com.
The above article is sponsor-generated content. To learn more about sponsor-generated content, click here.