A successful roadside inspection is crucial to the overall health of your compliance program.
To this end, leading provider of transportation safety and compliance solutions J. J. Keller & Associates, Inc. has developed a 52-page Roadside Inspection Survival Guide to help drivers and staff navigate the roadside inspection process. As a result of this training tool, fleets will have a better understanding of:
The Inspection Process
Learn the basics of the CSA enforcement model, common roadside inspection criteria and violations, and the Inspection Selection System (ISS) used to determine if an inspection is necessary.
Impact of a Negative Inspection
Know the cost of inadequate roadside inspection preparation, including higher ISS scores, lost revenue, lost business opportunities, and litigation and insurance rates.
Roadside Inspection Reports
Get help navigating your inspection results using our sample report and detailed key, and understand the process for ensuring and certifying that violations have been corrected.
ELD & AOBRD Inspection Requirements
Identify the key differences between roadsides with ELDs and AOBRDs, including new requirements for showing correct device documentation, and displaying, and/or transferring the required logs.
Filing DataQs Violation Challenges
Learn the various reasons why filing a DataQs challenge is impactful to your operation, applicable regulatory citations and FMCSA interpretations, and the process for completing one.
Completing a Successful Inspection
Complete the suggested steps for a successful inspection with helpful tips for conducting new hire and refresher training, and completing thorough pretrip and post-trip inspections.
Training and Preparation
Use the role play activities, cab cards, checklists, and quizzes provided to prepare drivers for their next inspection.
Click here to request your FREE 52-page copy of J. J. Keller's Roadside Inspection Survival Guide.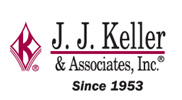 Serving more than 600,000 customers, including 90% of the Fortune 1000® companies, J. J. Keller & Associates, Inc. is the nation's leading provider of regulatory, safety and compliance solutions. Organizations of all sizes rely on our expert insights to help create safe work environments and simplify the complexities of regulatory compliance. Our diversified portfolio of solutions and services including online management tools, publications, training, forms, supplies, consulting and professional services is trusted to safeguard workers, reduce risk and build operational confidence. As a privately-held, family-owned company since 1953, we are committed to helping protect lives every day.  www.jjkeller.com
The above article is sponsor-generated content. To learn more about sponsor-generated content, click here.